Lilliput is synonymous with style, quality & value for money – Mr Narula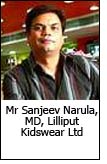 The Indian kidswear business has taken off like never before. Growing consumer incomes and an increase in disposable spends in the last few years has resulted in a formidable growth in this segment.

Fibre2fashion in order to bring to its readers some of the key players who have succeeded in this very competitive sector, since it is dominated more so by the unorganized sector, spoke to Mr Sanjeev Narula, Managing Director, Lilliput Kidswear Ltd.

Mr Narula set up a small garment manufacturing units with just 25 machines, way back in 1990, and today spans over eight manufacturing units with over 3,000 of the most modern machines and spews out over 600,000 pieces of clothing a month.

Lilliput Kidswear was conceptualized in the aftermath of 9/11, when most of his orders were cancelled and the first store in Delhi was set up in 2003. Today the brand has more than 210 exclusive stores, spawned across India, China, Bahrain and Egypt.

Within the next two years, Mr Narula has ambitious plans to set up 50 stores in the Middle East, 100 in China and taking the store count in India to more than 250 exclusive outlets from the current numbers.

We began the interview by asking him as to what tempted him to enter the kidswear segment, to which Mr Narula replied by saying, "Lilliput Kidswear Ltd. started its manufacturing by exporting world class kidswear in the year 1991 and in the following years, we witnessed an immense business opportunity in the Indian retail market. We conducted a detailed survey and found that there was a vacuum in branded garments for kids. The ones that were available were either expensive or tacky".

He continued, "Further, our team of designers had already mastered the art of creating superior kids clothing. I was confident enough that with the support of my efficient designers and other staff members we would be able to provide quality clothing to the domestic consumers. These factors helped in opening the first exclusive Lilliput store in April 2003, in New Delhi heralding Lilliput's entry in kidswear retail".

Next we asked him to go back in time and describe his journey from the day he began kidswear retailing till date, to which he said, "Lilliput ventured into the Kidswear retailing in the year 2003, with the first exclusive store in Delhi's posh Greater Kailash market. It was here when the brand 'Lilliput' was born. The response was incredible which helped me to go ahead with my concrete business plan with a very aggressive growth strategy".

"Since then, there has been no looking back for Lilliput. The number of brand outlets has grown rapidly and currently stands at 210 exclusive brand outlets, 225 key large format multi brand outlets like Shopper's Stop, Lifestyle, Pantaloon, Reliance Trends, Pyramids and more, across 150 cities accounting for over 650 points of sale. In the meantime, we also marked our foray in the international market in 2007, as the first Indian kidswear brand to make an international foray.