ASICS & ADVANSA ThermoºCool present ECO garments collection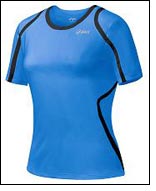 ADVANSA announces a partnership with ASICS for the launch of ASICS high performance running apparel collection made with ADVANSA ThermoºCool ECO fibres: combining innovative functionality and sustainability within the same garment. This hi performance apparel collection will be for the Spring 2010 collection, which will be available at the retail in January 2010.

"ASICS, is an acronym derived from the Latin phrase, Anima Sana In Corpore Sano - a sound mind in a sound body. Staying true to the philosophy by which it was founded, every ASICS innovation, every concept, every idea is intended to create the best product, by striving to build upon technological advances and pushing the limits of what can be learnt from the body and its needs in athletic gear. ASICS pledge is to bring harmony to the body and soul".

ASICS has seen in the new and revolutionary ADVANSA ThermoºCool ECO garments that have been specially designed for them, the perfect material for their new running performance apparel collection as it offers a step forward in functionality and a new overall understanding of how the body reacts during exercise. ASICS is the first running company in the world to incorporate such technology in their range.

ADVANSA ThermoºCool garments are made with a unique fibre mix providing superior evaporative cooling, designed to keep the user dry and cool when his body temperature increases, and unique thermo buffering properties helping to keep the user warm when the temperature decreases. Through this unique combination, the garment helps to thermo regulate the body temperature throughout all of the exercise period independent of being in high or low activity phases in order to remain in the comfort zone without the body overheating and without the undesirable post-exercise-chill effect.

Sustainability and ecology are vital issues within the core policies of both ASICS and ADVANSA. The collection is launched using an environmental friendly version of ADVANSA ThermoºCool, thus marrying ecological and functional benefits in the same garment, which is a breakthrough in the performance sportswear market.

David Chandler, VP Apparel and Accessories of ASICS America "For ASICS innovation and functionality are key issues in our company. We strive to offer unique products to our clients, and with ThermoºCoolECO we have found a product that perfectly fits with our philosophy of innovation and functionality. Innovation is a driver within ASICS and as sponsors of main events such as the ING New York City Marathon, where runners require the maximum from our garments to remain fully focused on the race, our maximum aim is to provide them with the best comfort that all runners deserve, even more when running such a demanding marathon as the NY race.

"We have seen in ASICS an ideal brand to partner with, being able to create strong synergies between both companies in the launch of ADVANSA ThermoºCool" states Gerard Illeras, Global Market Manager for Sportswear in ADVANSA.