Street Artist Fairey unveils piece of art outside Levi's store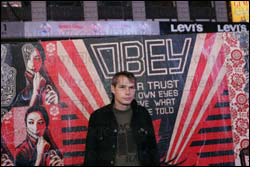 To commemorate the launch of the new, limited-edition Obey x Levi's apparel collection a line of street-inspired menswear styles, co-designed by street artist, Shepard Fairey, his OBEY Clothing collection and the Levi's Brand the artist unveiled a special, public art installation in front of the Levi's Store in Times Square. Executed on Military Island, in the heart of one of the world's busiest intersections, this special event offered the public a rare, inside view of the acclaimed street artist's unique process.

The finished piece is a layered collage of varying imagery, simultaneously addressing issues that range from global warming to the power of propaganda to influence. To further mark the occasion, Fairey also created a series of four new poster designs and immediately following the mural's unveiling, the artist signed museum-quality reproductions of these new works for fans who had eagerly lined up outside the denim leader's Times Square store.

The publicly-executed mural unveiled last night was later affixed to the outside facade of the neighboring Levi's Store location and measures approximately 7.5 feet high x 24 feet wide. This work is a part of a much larger Fairey-developed mural adorning the Times Square store's exterior that is 68 feet in total length and wraps around the corner of Broadway onto 44th Street. The work will be displayed outside of the Levi's Store in Times Square through November 5, at which point it will be dismantled and removed from public view.

On teaming with Levi's Jeanswear and the newly introduced poster series, Fairey offered, "I've always felt that keeping my art bold, simple and refined was a way to cut through the clutter, and it's a formula that Levi's has been using for decades that keeps them accessible and populist yet stylish and relevant. The posters I created for Levi's are returns to the roots of my style: one side with an industrial propaganda poster feel that connects with the heritage of Levi's as a brand for workers, and the reverse side reflecting my other biggest influence, punk rock, and the connection of Levi's to punk and rock in general."

"Shepard Fairey is a groundbreaking innovator who has changed the way art is perceived and consumed in our world today. His revolutionary work uniquely reflects the optimistic, pioneering spirit of the Levi's brand, making Obey x Levi's a truly authentic collaboration," said Doug Sweeny, vice president of Marketing for the Levi's brand. "As fans and loyal supporters of Shepard's pioneering art, we are proud to introduce this special clothing collection rooted in Shepard's favorite Levi's styles."

A graduate of the prestigious Rhode Island School of Design, Shepard Fairey was catapulted to super stardom last year when his "Hope" poster became the predominant image of President Obama's successful campaign. But it was Fairey's "Obey" guerilla art campaign that first gained mass attention nearly a decade ago. His now infamous "Obey" images of Worldwide Wrestling Federation star Andre the Giant continue to appear on public canvases worldwide today and inspired Fairey to create OBEY Clothing - a collection of street and skate-inspired apparel he introduced in 2001.