Danish Royal Couple visit MASCOT Factory & Logistic Centre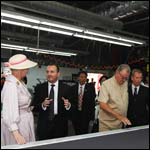 Her Majesty Queen Margrethe and The Prince Consort together with a large business delegation visited MASCOT's factory in Vietnam. During the visit MASCOT received an award from the Vietnamese Authorities for being an exemplary investor.

"Vietnam has developed into a really good country to invest in!" That was the message from Managing Director, Michael Grosbøl to Her Majesty the Queen of Denmark and The Prince Consort when the royal pair (on Wednesday 4th November 2009), visited MASCOT's Factory and Logistic Centre near the capital Hanoi. The Royal Couple were accompanied by a large delegation from the Danish Business Community and The Danish Trade Ministry of Foreign Affairs.

Construction with speed
MASCOT's building is interesting for Western businesses and in particular for potential investors for several reasons. "Most people who visit our factory in Vietnam are surprised by the positive outcome of primarily two things", tells MASCOT's Managing Director Michael Grosbøl. "The fact that we met the budget and that construction was finished after only one year, is seen as the biggest achievement when western business visitors, who know about Asian investment, evaluate our production facilities".

From paddy field to International Production Facility
MASCOT's 15,000m2 large factory is located 50km from Hanoi on a piece of ground that until 2007 was a paddy field. Today, it employs 700 people in the factory, which houses a sewing studio, quilt production, a raw material warehouse together with administration. "We are not surprised but obviously extremely pleased that we have succeeded", admits Michael Grosbøl. He reveals the secret behind the success, "It is all down to extremely careful and detailed preparation – and never taking shortcuts" says Michael. It is for this reason thatMascot International A/S (MASCOT) is now known as a model company by the Vietnamese Authorities and a role model for other investors.

Vietnam through the extensive process
"Vietnam has been a fantastic country to invest in. If you are willing to commit the necessary resources and a fair amount of energy there is fertile ground for success to grow from. Our success is testament to this," said Michael Grosbøl to the Royal Couple. MASCOT's investment project was completed in under two years from idea to a completely finished, fully fitted factory, and with all staff in place. It could not have been done if the Vietnamese Authorities had not been through a comprehensive modernising process of economic legislation. "When we came to Vietnam 10 years ago to look for subcontractors it was a completely different world," explained Michael Grosbøl.

Support from the Danish Authorities
MASCOT's Director also insists that the project is an example of what can come from a close co-operation with the Danish Authorities. "We have used this opportunity to utilise the Danish Embassy in Hanoi and Denmark's Trade Council who have been very active players in the process. As a result we became the first – and only foreign company – licensed to have our own bonded warehouse with built-in quality control of our raw materials. I do not think we would have achieved this without the massive support from the Danish Authorities," said Michael Grosbøl.