First of N.Korean jeans go on sale in Sweden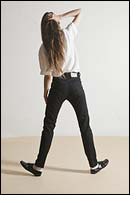 An enthusiastic team of entrepreneurs from Sweden have proved a centuries old adage correct; that "Where there is a will, there is a way". After months of persistence and overcoming red-tape and sloth, they were able to complete their mission of having received delivery of 1,100 pair of designer jeans stitched in North Korea.

The designer jeans, marketed under the "Noko" brand and labeled "Made in North Korea" will go on sale this Friday in the Swedish capital; at Stockholm's PUB store and will carry a price tag of 1,500 Swedish crowns (US $215) and will share shelf space with brands such as Guess and Levi's.

Noko Jeans is founded by Jacob Åström, Tor Rauden Källstigen and Jakob Ohlsson. The creative team also consists of fashion designer Julia Hederus, photographer Erik Wålström and art director Jonas Nordin. They spent over a year trying to gain access to factory operators in North Korea, and struggled with poor communications and an unfamiliar approach to doing business once inside the country.

Fibre2fashion spoke exclusively to one of the entrepreneurs in Sweden, Jakob Ohlsson and asked him to share with our readers the main reasons for going through all the troubles, to which he said, "Noko Jeans began with an e-mail sent to North Korea in July of 2007, fueled by the enthusiasm of being able to contact the country directly. We thought Noko Jeans would end there, before it even began. But it didn't. Instead, and despite our lack of experience in international trading or fashion, it swiftly grew to a much more serious level.

"After a year of official meetings with bizarre (and often zinc related) twists around every corner, we were finally allowed into the country as official visitors, by invitation of the state. After ten days of climbing the hierarchical ladder, we downed a full drinking glass of Swedish vodka, shook hands, and agreed – there would be jeans. 1,100 pairs, two models – Oke loose fit and Kara slim fit – both to be produced the summer of 2009.

"After that we just had to learn everything that had to with business and fashion, but comparing to what we'd just been through, that was the easy part", he added by saying.

Next we asked him to reveal the difficulties faced during the actual process of manufacturing in North Korea, to which he replied by saying, "Only interesting difficulties! This project has so far been very much about encountering weird problems and solving them in even weirder ways. One of many, and a favorite, is the German connection – a red herring we chased for months until we realized that our contact in the country only knew about 50 German words which he seemed to choose randomly. We only know 4 German words so to us everything made sense, until we had a German-speaking dentist we know call him and ask what was up. The dentist then strongly advised us not to continue the project, but of course we didn't listen.