Interactive brand engagement via SMS/URL placement on t-shirts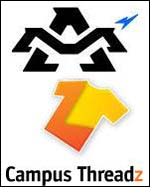 The shirt on your back has long been used as an advertising billboard, but Chicago-based Apparel Media Group is now turning it into an engagement marketing platform that creates an emotional bond with consumers by combining demographic targeting, group sponsorships and SMS/URL interactivity. The company matches brands with groups such as college organizations, youth sports leagues and young mothers looking for sponsors to cut the costs of custom apparel. The brand receives premium real estate on the shirt to publicize its service or product, and the buyer, grateful for the price break, becomes a brand ambassador.

Brands can also include an SMS code or unique URL inviting consumers to send text messages to receive special offers or visit a campaign website, enabling t-shirts to serve as interactive mobile marketing vehicles with potential viral reach. A proprietary analytics program tracks campaign success on an individual basis as well as by geography and campaign-wide, including estimated campaign impression rates, cost per thousand impressions, and impact on the brand's website traffic.

Benefits of AMG's Interactive Apparel Advertising program include:

• Brand visibility with t-shirt wearers as roving brand advocates.
• Interactive brand engagement via SMS/URL placement on t-shirts.
• Goodwill/emotional connection created by subsidizing custom apparel costs.
• Targeting to relevant demographics through AMG's patent-pending matching program.
• ROI measurement with proprietary linked feedback tracking system.

"Custom t-shirts are inherently interactive because consumers are wearing the brand. We're using t-shirts not only as a canvas for brand messaging but as a platform for driving meaningful brand relationships - both by instilling a sense of loyalty to a brand or product and by adding interactive technology to deepen the connection," said co-CEO Amish Tolia, who founded the company with fellow Indiana University graduate Jared Golden and IU Kelley School of Business professor Gerry Hays. "It's a fresh approach to reaching a consumer audience that increasingly tends to ignore direct brand appeals like online banner ads."

Launching with College Market:

Initially, AMG is offering test programs to brands interested in tapping into the college market, leveraging the established campus relationships of AMG member company Campus Threadz that was founded by Tolia and Golden four years ago. Brands can place messaging on custom garments purchased by campus organizations in return for contributions from their advertising budget that lower the group's price per unit.

Through Campus Threadz, AMG currently can help brands reach more than 750,000 consumers aged 18 to 24 on more than 30 college campuses, including those affiliated with nearly 50 fraternities and sororities for which Campus Threadz has mark licenses. The company continues to expand to other educational institutions and also has campus media coordinators who provide feedback to sponsoring brands based on user surveys.