Macy's is All Heart!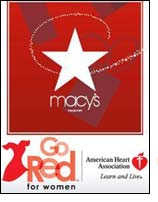 There'll be strength in numbers as Americans wear red and speak up with a universal message to love one's heart on February 5th, National Wear Red Day, the kick-off of American Heart Month. On this special day, people across the country will adorn themselves in shades of red, from scarlet to ruby, and join the Go Red For Women movement. As the national sponsor of Go Red For Women, Macy's will celebrate the cause coast-to-coast with exclusive fashion, culinary, and special in-store events devoted to raising funds for the American Heart Association and awareness amongst American women and their loved ones.

"Macy's recognizes the importance of National Go Red for Women Day and what it means for American women everywhere. Our partnership with the American Heart Association and sponsorship of the Go Red For Women movement is heartfelt, and each year we look for new ways to inform and engage our customers and associates about being heart-smart and healthy. This year's campaign is fun, fashion-oriented and community-based, with the debut of our very own Little Red Dress from INC that will fashionably raise funds for the AHA, and with Macy's stores across the country setting the stage for the AHA's Casting Call events," says Martine Reardon, executive vice president of Marketing, Macy's, Inc.

Heart Disease is the number one killer of women, and yet this largely preventable disease can go undetected, misdiagnosed, and mistreated until, in many cases, it's too late. In 2004 Macy's announced its national sponsorship of the Go Red For Women movement, and commitment to educating customers about heart disease and its affects on women. Since then, Macy's has raised more than $21-million to support educational efforts and breakthrough research by the American Heart Association.

Each year Macy's reinforces its dedication to this cause by implementing new and exciting in-store events and on-line promotions to motivate women to get serious about making healthy choices to prevent heart disease. This year's program is more intimate and directed toward reaching women in every aspect of their lives.

"Macy's long-standing commitment to Go Red For Women has helped us provide women the knowledge and tools to make life-saving choices every day," said Neil Meltzer, American Heart Association Board Chairman and President and COO, Sinai Hospital of Baltimore. "The awareness campaign Macy's has planned for this year will bring even more exposure to the red dress symbol and awareness of heart disease, as we continue to fight this No. 1 killer of women."

Seeing Red and Savings

As is the tradition of all first Fridays in February, and in honor of American Heart Month and National Wear Red Day, customers wearing anything red – from an entire ensemble; to lipstick; to the signature Red Dress pin, will receive a special 20% discount on a wide assortment of merchandise at all nationwide Macy's stores, as part ofthe retailer's Wear Red Sales Event. However, if red is not the color of choice, but customers still want to support Go Red For Women, as well as receive the special discount, they can make a $2 donation to the American Heart Association, at the gift wrap or any accessories counter, and receive the official Go Red For Women red dress lapel pin. All proceeds from the sale of the pin will go directly to the American Heart Association's Go Red For Women movement. The Wear Red Sale event begins Wednesday, February 3rd through Sunday, February 7th.

Leave your Comments
Recommended
Want to know what happened in the textile world this week? Watch now!
news category
---
Related Categories: