ASBCI Lingerie & Swimwear Seminar 2010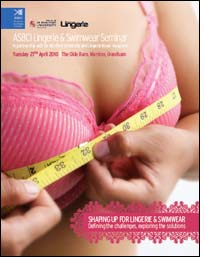 The Association of Suppliers to the British Clothing Industry (ASBCI), in partnership with De Montfort University, DMU and Lingerie Buyer magazine, has announced a one-day seminar dedicated to addressing issues impacting the lingerie and swimwear sectors.

Entitled 'Shaping up for lingerie & swimwear – Defining the challenges, exploring the solutions' the seminar is being held on Tuesday 27th April, 2010, from 9.30am to 4.30pm at the Olde Barn Hotel, Marston, Grantham. Ten eminent speakers from the medical, contour fashion, sizing, design, brand, retail and technology sectors will address some of the most pressing issues relating to lingerie and swimwear design.

These will include breast health, sizing and fit, contour design for fuller figures, on-line selling and self-measuring, staff training and the role of new technologies in sizing, grading and pattern cutting. The day will conclude with an open discussion with an expert panel of lingerie and swimwear retailers and brands including Marks & Spencer, Tesco, Lingerie Buyer magazine and Di Murini the mastectomy bra specialist.

Atul Khanna, one of the UK's foremost breast health and reconstructive surgeons, will be speaking at the seminar in addition to contour and sizing specialists from Alvanon, Assyst Bullmer/Human Solutions and De Montfort University. Designers, sourcing and garment technologists will also be presenting from Acestyle, DB Apparel, Figleaves.com and George Clothing.

Julie King, head of department fashion & textiles at De Montfort University will chair the day's events, which will open with Laura Savery, senior lecturer and technical designer of the contour department at De Montfort University. In her presentation 'Top tips for fit' she will give an overview of a recent Which? report on five high street bra-fitting services and will demonstrate best-fit practice for consumers and retail fitters. In a presentation entitled 'Fit for Purpose', Ed Gribbin, president of Alvainsight a division of Alvanon and the world's leading authority on sizing and fit will then define the meaning of shape and the multi-cultural contour challenges facing lingerie and swimwear suppliers.

The relationship between breast health and lingerie will be examined by Atul Khanna, consultant plastic and reconstructive surgeon. In addition to talking about breast assessment and measurement, he will explore the health issues relating to large breasts and explain the crucial role played by bra design post surgery. He will be followed by Pat Conway, large style expert, with Acestyle who in her presentation 'Abreast of the situation' will explore the technical design challenges facing lingerie and cup-based swimwear designers for fuller figures, the success of niche markets and recent innovations. The morning session will conclude with Karen Flude, ladies' garment technologist lingerie & swimwear, George Clothing who will be launching an exciting new initiative to improve communication across the industry on sizing and fit issues relating to contour-based products.