ILG to extend Haggar's brand leadership in men's wardrobe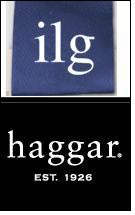 Haggar Clothing Co., maker of Haggar branded casual and dress apparel for men, has announced a multi-year license agreement with International Legwear Group (ILG), under which ILG will exclusively market and sell socks and hosiery under the Haggar brand in the United States, Mexico and Canada. The agreement with ILG will extend Haggar's brand leadership in men's dress and casual clothing and accessories.

"Consumers love the authentic style and excellent value that the Haggar brand represents -- especially in a difficult economy. The new line of Haggar legwear will afford men the perfect finishing touch to complete their wardrobes," said Jon Ragsdale, SVP of Marketing and Merchandising for Haggar. "ILG brings 30 years of industry experience and enthusiasm to this category, and we are excited about this addition to the Haggar family of products that our partnership will bring to consumers."

The Haggar legwear collection will knit comfort, fit, and durability features into every style. Utilizing innovative yarns and cutting-edge knitting constructions, Haggar socks are designed to feel and wear as great as they look. The collection will be available at retail in Fall 2010.

"We look forward to bringing our expertise to the exciting opportunity to represent the iconic Haggar brand," said Kathy Willis, CEO of ILG. "Haggar and ILG share a long corporate history of dressing the working man for success. We understand the expectations of the Haggar customer and, using the latest developments in technology, will assure that superior comfort, quality and style are incorporated in all of our products."

Haggar Clothing Co.