JCPenney unveils new financial targets through 2014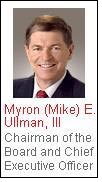 At its 2010 analyst/investor meeting in New York City, J.C. Penney Company, Inc set out its plans to accelerate its transformation and to be the first choice of American families for great styles at compelling prices.

The Company also announced new five-year operational and financial targets, which reflect a focus on driving profitable, top-line growth and expanding market share.

Myron E. (Mike) Ullman, III, chairman and chief executive officer, said, "It's a new day at JCPenney thanks to the steps we have taken to be a style destination, to develop sophisticated technology and tools to manage our business, and to be in an exceptionally strong financial position. We are now focused on taking our transformation to the next level by introducing new initiatives in support of our vision to be America's favorite shopping destination for great styles at compelling prices. As we do this, we intend to drive profitable sales growth, enhance our financial performance and achieve industry leadership."

To demonstrate how JCPenney is bringing its vision to life, at the analyst/investor meeting, JCPenney's merchandising, marketing and information technology executives discussed new key initiatives in each of their business areas that build on the Company's style and technology leadership.

Long Range Plan and Financial Expectations for 2010-2014:

The Company has now embarked on its next phase of the Long Range Plan it initiated in 2005. Its updated Long Range Plan goals are:

• being our Customers' favorite destination for stylish apparel, accessories and home fashion, inspiring existing customers to shop more with us and accelerating growth among a younger (25-44 year old) customer base;
• consistently delighting our customers with our Merchandise and services that create a sense of discovery and excitement at each shopping visit;
• being the preferred choice for a retail career for our Associates by continuing to build a company culture that fosters innovation and teamwork;
• industry growth leadership for our Shareholders, investing resources that support sales growth and enhance shareholder value.

Based on its expectations stemming from the execution of these strategies, the Company also provided financial performance targets for the five-year period, ending in 2014.

By the end of fiscal 2014, the Company expects total sales to increase over $5 billion to reach approximately $23 billion. This is expected to be driven primarily by comparable store sales growth.

• Gross margin is expected to increase to approximately 40 percent of sales, but total operating expenses should decline as a percent of sales, and operating income is expected to steadily increase over the period and be approximately 9 to 10 percent by 2014. This is in the range of the Company's historical peak of 9.7 percent achieved in 2006.
• After 2010, EPS growth, adjusted for the pension expense impact, is expected to achieve a 25 percent compounded annual growth rate over the following four year period to bring expected EPS for 2014 to over $5.00 per share.