Lay Flat Collar Undershirts won't stretch/take on wavy shape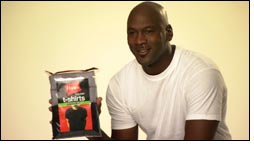 Hanes has launched a new men's underwear marketing campaign starring basketball great Michael Jordan in a new television commercial that shows Hanes Lay Flat Collar undershirts will never suffer from wavy "bacon necks" like other shirts. The marketing campaign kicked off Sunday, May 16, and will continue airing on high-profile cable entertainment and sports programming.

As part of his 20-year relationship with America's No. 1 men's underwear brand¹, Jordan will star in humorous ads set in an airplane that find him trapped next to a chatty carpet salesman (Rick) with whom he has nothing in common except Hanes Lay Flat Collar Undershirts. The multifaceted marketing campaign will be brought to life through humorous television and radio commercials, Internet content pieces, and digital activations.

The latest Hanes campaign reinforces the brand's continued commitment to providing superior comfort. Hanes Lay Flat Collar innovation was born out of research that addresses consumer concerns about the importance of a collar that keeps its shape and does not become wavy (referred to as "bacon neck" in the new ads). This innovation is now available in the fastest-growing men's underwear category: dyed tops. Hanes now offers Lay Flat Collar Dyed Undershirts across all Hanes Men's Pocket Undershirts and Dyed Crews. Additionally, beginning this year, all Hanes products will carry the Comfort Guarantee seal, which reinforces the brand's commitment to superior comfort with a money-back guarantee.

"Hanes products are in nearly nine out of 10 U.S. households and comfort is our biggest priority, which is why we are constantly creating new innovations that make people look and feel better," said Sidney Falken, senior vice president, Hanes brand. "Our Hanes Lay Flat Collar Undershirts have been a great success, and we are very proud to now offer this feature in our dyed undershirts. The innovation ensures that the undershirt fits the way it's supposed to and the collar does not become wavy like cooked bacon – no matter how many times you wear and wash it."

New Airplane-Theme Ads Take Flight
The new ads, created by The Martin Agency of Richmond, Va., kicked off the campaign on May 16 on Fox's NASCAR Autism 400 and ABC's NBA playoff games. The ads will continue to air on select Major League Baseball games in June on TNT, high-profile NBA Conference Final games and Fox's NASCAR Coke 600. Radio ads will run on ESPN Radio on shows such as "Mike & Mike in the Morning" and during the Major League Baseball All-Star Game. Highlights from the digital campaign include multiple Homepage Roadblocks on websites such as Fox Sports, UGO Gaming, and Yahoo! Sports. Additionally, rich media banners will appear across Yahoo! Travel, Yahoo! Music and NBA.com.

"Bacon Neck" is the first of two television spots and highlights the worn and wavy shape the collar of an old undershirt takes on over time. The spot features Michael Jordan on a plane sitting next to Rick who is perturbed by a fellow passenger who keeps looking in their direction. Rick, now established as a clueless-yet-amusing seat mate, jokes about the man's undershirt. Rick whispers to Michael to check out the man's "bacon neck," describing his undershirt collar as "all curled up like bacon in the pan." Rick references how he and Michael – much to Michael's amusement - look like twins in their "Lay Flats." The humorous spot and the bacon neck terminology reinforce that no matter how many times you wear it, Hanes Lay Flat Collar Undershirts won't stretch or take on a wavy shape. A voice-over concludes with, "the Lay Flat Collar. Lays flat. Won't bacon. Only from Hanes."