Expansion of hat retailer with new jobs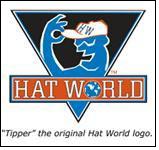 Governor Mitch Daniels joined Mayor Greg Ballard and executives of Hat World, Inc., a retailer and manufacturer of hats and sports apparel, to announce that the company will expand its Indianapolis headquarters and distribution operations creating up to 571 new jobs by 2015.

The company, which manufactures apparel and operates retail stores primarily under the LIDS brand, plans to invest up to $22 million to lease and equip additional space as it consolidates manufacturing and warehouse operations from Wisconsin. Hat World currently operates out of 195,000 square feet of leased space in Park 100 on the city's northwest side.

"Welcoming hundreds of new jobs and millions of dollars in capital investment means a great day for Indianapolis and the state," said Governor Mitch Daniels. "These new jobs could have landed somewhere else, but Indiana's competitive business climate and Hat World's continuing commitment to our state has made for another successful outcome for Hoosiers."

Hat World, which currently employs more than 300 associates in Indianapolis, plans to begin hiring additional manufacturing and warehouse associates later this summer as new operations and additional inventory is phased in at the Indianapolis location.

"By staying focused on ways to continually enhance our branding, technology and processes in order to create the maximum value for our customers and employees, Hat World is proud to be a recognized retail leader of officially licensed and branded athletic fashion headwear," said Hat World, Inc. President Ken Kocher. "It is this same drive that has us excited about the opportunity to continue our expansion in the team apparel industry by relocating production to Indianapolis. We greatly appreciate the commitment of the city of Indianapolis and state of Indiana for their support of our continued growth."

Founded in Lafayette, Ind. in 1995, Hat World, Inc. operates more than 900 retail stores in 48 states under the retail brands of LIDS Hat World, Hat Shack, LIDS Locker Room and Sports Fan-Attic. In 2004, Hat World Inc. was purchased by Nashville, Tenn.-based Genesco Inc.

The Indiana Economic Development Corporation offered Hat World Inc. up to $4 million in performance-based tax credits based on the company's job creation plans. The city of Indianapolis will consider additional property tax abatement at the request of Develop Indy.

"Hat World's expansion and consolidation of its manufacturing and warehouse operations in Indianapolis and its plans for new jobs here makes sense for a growing, industry-leading company seeking a competitive workforce," said Mayor Greg Ballard. "From a location and cost standpoint, it's tough to beat our low costs of doing business and the ease and efficiency of shipping product to all parts of the country. I congratulate Hat World and its employees on this success, and look forward to a long partnership with you."

Hat World Inc.'s announced expansion comes just three weeks after Arcadia HealthCare announced plans to expand its national headquarters and pharmacy fulfillment operations on the north side of Indianapolis, creating up to 930 new jobs by 2013.