PVH to produce Ike Behar dress shirts & neckwear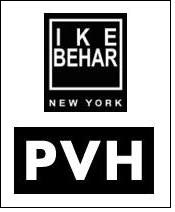 Ike Behar Apparel & Design Inc., designer and manufacturer of Ike Behar apparel, announced it is broadening its licensing partnership with Phillips-Van Heusen Corporation to include dress shirts. This follows a successful ten-year relationship between Ike Behar and the Insignia Division of PVH's Dress Furnishings group to produce neckwear under the Ike Behar brand.

Beginning January 2011, the Ike Behar brand embarks upon a new chapter in the Behar family's 50-year business by developing a long-term license with PVH for ready-to-wear dress shirts.

"We are very excited to join our fine quality dress shirt product line with the dynamic worldwide sourcing and distribution network of Phillips-Van Heusen," said Ike Behar President Alan Behar. "In this highly competitive and global marketplace, combining the strengths of our companies positions us enviably for expansion and growth. The Ike Behar brand provides PVH deeper penetration into the better ready-to-wear dress shirt category and PVH's strength and reach will afford us the growth and exposure necessary to further build the Ike Behar lifestyle brand."

"PVH has done an outstanding job with our neckwear, perfectly aligning the design and quality with our top-tier distribution," Behar added. "Based on this model we will be working with PVH to create a dress shirt component to their business which maintains the quality standards for which our family's company is known. This is an essential and key positioning step as we move our brand forward as a total menswear concept. This strategy now allows us to concentrate on design, marketing and brand development."

Marc Schneider, President of Dress Furnishings at Phillips-Van Heusen Corporation, said, "We could not be more pleased to be expanding our relationship with Ike Behar. As leaders in the dress furnishings business, we continually look to bring the strongest brands to market and Ike Behar is certainly a key leader in the better market. We have expanded the reach of our Insignia Division to include dress shirts, as well as neckwear, and the Ike Behar offerings will fall into that group along with offerings under some of our other current brands and future partners. We look forward to working with Alan and the Behar team to ensure a smooth transition for our customers and consumers."

Ike Behar Apparel and Design Inc. will license ready-to-wear shirts and ties under its Ike Behar labels to PVH, which will continue to manufacture Ike Behar dress shirts in factories in North America, South America and Italy where the product is currently produced.

Ike Behar Apparel and Design Inc. will continue to manufacture its Custom Tailored, CEO, and Made-to-Measure shirt programs worldwide, expanding on the brand's heritage. Additionally, Ike Behar Sportswear will be broadened by the company. Ike Behar will maintain operation of its Hathaway brand in Canada under established and new licensing agreements and willcontinue to manufacture and distribute Joseph Abboud dress shirts, which it licenses from J.A. Apparel Corp.