Legwear brand No nonsense steps to better planet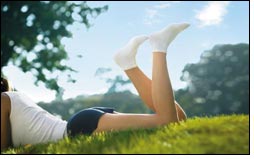 Everyone's favorite brand is committed to taking "Steps to a Better Planet". Like your best friend, No nonsense is a brand that understands the importance of giving back.

Socially and environmentally responsible, No nonsense makes a concerted effort each and every day to reduce its carbon footprint and to also give back to those in need. 95% of No nonsense products are "Made in the USA" in environmentally-conscious facilities.

Founded in 1972, No nonsense prides itself on being an all-American company which designs and manufactures domestically for today's American men, women and kids. Furthermore, the brand's commitment to giving back can be seen in its initiatives to donate proceeds from sales to charities including Arbor Day Foundation, Friends for Earlier Detection, K.I.D.S. and Samaritan's Feet. Some of the initiatives the brand will be taking this year include:

Eco-Sensible
The brand takes both a Made in USA and environmentally-conscious approach towards manufacturing and marketing products for the entire American family. Since 2006, No nonsense has used earth-friendly yarns such as organic cotton, and has several others in the works. The brand's design and production teams are continually on the lookout for latest eco-yarns and earth-friendly processes.

This spring the brand is launching an eco-collection called Naturally Comfortable made with organic cotton. Also, 10% of sales of Naturally Comfortable will help No nonsense plant 30,000 trees. Across the board, the brand is committed to moving towards earth friendly packaging currently implementing soy-based inks, water-based coatings, reduced materials and recycled/recyclable materials.

Furthermore, the company's state-of-the-art manufacturing equipment means reduced resource needs. Cartons, bobbins, pallets, and knitting oil are reused and recycled. Other eco-conscious initiatives include using green solvents, energy efficient lighting, and more direct and efficient transportation of product. All these are examples of the brand's commitment to taking steps to make this a better planet.

Made In USA
With 94% of manufacturing in the USA, the company makes strides daily towards reducing the brand's carbon footprint. While many companies have moved production overseas, No nonsense has always felt strongly about staying local, continuously investing in energy efficient machinery to keep production facilities state-of-art, thus reducing its carbon footprint.

No nonsense/Kayser-Roth Corporation has four manufacturing facilities in the USA: Dayton, TN; Lumberton, NC; Burlington, NC; Asheboro, NC. Emissions and oil consumption are reduced by producing product in the USA, so consumers can wear No nonsense with pride!

Charitable-Minded
No nonsense is dedicated to employing and giving back to the community, especially during these difficult economic times. In its commitment to a better planet, the charitable-minded No nonsense will donate a portion of sales this year to several important charities, including the Arbor Day Foundation (Naturally Comfortable sock collection), Friends for Early Detections (Breast Cancer Sock and Aromatherapy Sock). This year, the brand will also give 250,000 socks to American families and children via Samaritan's Feet and K.I.D.S. charitable organizations. Often overlooked, socks are one of the most important items in demand.