Dickies kicks off 874 Versus campaign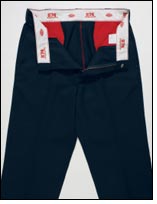 Dickies, the leading global work wear brand, announced the retail availability of the Detroit 874, a limited-edition, U.S. made work pant benefiting unemployed workers in Detroit. For every pair of Detroit 874s sold, Dickies will donate a pair of Original 874 Work Pants to The Salvation Army of Metro Detroit to assist workers in need.

The Detroit 874 is a unique adaptation of Dickies' classic 874 work pant and represents a program extension of the recently launched "874 Versus" integrated marketing campaign. Titled "874 vs. Unemployment," the special program provides Detroit workers with a basic necessity to help secure a job and stay protected on the job site – a good, tough, reliable pair of work pants.

Made in the U.S., the limited edition Detroit 874 is a handcrafted, dark navy twill work pant with exclusive red contrast stitching, red pocketing, special logo and waistband branding. The pants retain the most popular features of the Original 874, including an original fit, 65/35 polycotton twill fabric, wrinkle resistance, stain release finish, permanent crease and distinctive tunnel belt loops.

"The 874 Versus campaign is about showcasing our flagship Original 874 work pant and how it resonates with workers across a broad spectrum of industries and their lifestyles," said Tad Uchtman, Senior Vice President of Marketing, Merchandising and Licensing at Dickies. "874 vs. Unemployment is a very intuitive program and logical augmentation of that effort. Dickies makes hard working pants, and we want to get them to the people who need them the most."

Dickies unveiled the special edition garment today in Detroit. Actor, Director and Detroit Native Vondie Curtis Hall was on site to show support for the program and the positive impact it will have in the city of Detroit. At the unveiling, Dickies made an initial donation of 5,000 pairs of Original 874s to The Salvation Army of Metro Detroit, as a call to action to consumers to help double that quantity through the sale of the Detroit 874.

For every pair of Detroit 874s sold, Dickies will match that sale with another pair of Original 874s donated to The Salvation Army. If all 5,000 pairs of Detroit 874s are sold, Dickies will have contributed 10,000 pairs of Original 874s to help Detroit workers.

"This generous program comes in a time of economic crisis for our community, when the people we serve are struggling to find job opportunities and also lack the basic necessities to secure a job," said Major Monty Wandling with The Salvation Army Eastern Michigan Division. "We feed and shelter thousands of people a day. Having proper work clothing is a critical next step we can provide to those we're helping get back on their feet. We are blessed to be able to provide Dickies work pants to Detroiters in need."

Dickies has made its name providing reliable, no nonsense work wear to hard working people around the world for nearly 90 years. The brand's timeless Original 874 has remained workers' pant of choice for over 40 years, holding up to the rigorous wear and tear of the workplace. As a result, the 874 has evolved into 28 variants, including washed fabrics, distressed and pigment dyes; and has inspired a franchise of work wear including work shirts, slim and skinny fits, cutoffs, women's and kids' versions, and more.