Iconic Oxford Circus leads Nike's national retail strategy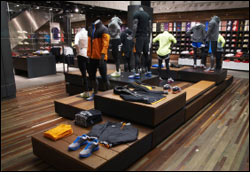 NIKE, Inc. announced the official reopening of the company's flagship Niketown store on Oxford Circus in central London, following extensive redevelopment that makes it the largest Nike store in the World.

Niketown London now covers approximately 42,000 square feet over four floors. Its reopening forms part of a series of planned new store openings across the UK designed to provide a premium experience across the company's key sports categories: Football, Running, Basketball, Sportswear (lifestyle), Action Sports, Athletic Training and Women's Training.

This aligns with Nike's global strategy outlined earlier this year at the company's investor meeting held in New York, which detailed plans to open approximately 250-300 new Nike-branded stores (mix of branded stores and factory outlet stores) worldwide over the next five years.

In addition to the newly enhanced Niketown London store, and existing Nike stores in London Westfield, London Bluewater and Liverpool, the company has plans to launch another multi-category location in Glasgow in 2011. These sit alongside single-category stores, such as the Nike running store in Covent Garden which opened in October, and a new football-only store set to open in Manchester in mid-November.

Marc van Pappelendam, general manager, Nike UK Ltd commented, "Nike is committed to offering consumers access to engaging, exciting and innovative retail spaces. The re-launch of our flagship Niketown London store demonstrates our drive to continue to raise our game and offer our consumers world-class shopping experiences in line with our long-term category strategy."

Niketown London, located in Oxford Circus, has acquired iconic status with Londoners and visitors alike since it opened as one of the city's first brand retail experiences in1999. The store has now expanded from three to four floors with services and experiences that include:

• A two-floor NIKEiD studio (and football boot-specific iD studio) for consumers to go online to design and customize their own footwear, clothing and equipment, complete with design consultants to assist them
• A state of the art football boot fitting machine, allowing players the chance to steam mould boots to their feet
• A boot embroidery service, allowing names, flags and numbers to be stitched onto football boots
• An online kit-builder tool for football teams to customise their own kits, along with a shirt printing and numbering service
• Video gait analysis and trained staff to help runners to work out exactly what type of shoe suits their running style
• Weekly running clubs (NikeTown runners) which take place from the store on Tuesday nights

The third floor is dedicated to showcasing the latest women's apparel and footwear and action sports including Nike 6.0 which has gained additional merchandising space. Further offerings in the world's biggest Niketown include specific areas dedicated to running, tennis, rugby, basketball, football, training and Nike sportswear.