FOB breakthrough fabric mutes animals' sixth sense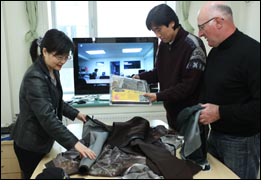 A truly global New Zealand company, FOB Direct Ltd has become a partner in the United States with a company who has invented breakthrough technology with a fabric which reduces the ability of animals to detect a human subject and has opened a huge and diverse new global market.

The fabric was developed by HECS (Human Energy Concealment Systems) and is designed to mute animals' sixth sense which detects the electromagnetic radiation emitting from humans. The grided carbon fiber fabric blocks the electromagnetic fields.

Already research and tests are being completed on the fabric in areas as diverse as wetsuits, postal service garments, military and recreational clothing and creatures as diverse as dogs and sharks.

Their Auckland based partner, FOB Direct Ltd NZ was set up by Warren Bird almost three years ago and he has also set up FOB Direct China Ltd in Beijing with Mary Ying Ma his Chinese business partner.

They trade throughout the world with clients in New Zealand, Australia, UK, U.S.A. EU and Sweden and act on their client's behalf negotiating the price and managing the production of good quality clothing out of China.

The company has grown an average of 40% each year since it started. Warren Bird has over 20 years in the clothing importing and exporting business.

HECS, out of the United States approached FOB Direct NZ on the recommendation of a high tech apparel customer of the New Zealand Company, based in Seattle

"HECS wanted to be able to identify a company that they could trust and could create the fabric better and at a better price out of Asia." said Warren Bird, " and we came highly recommended as the company that could achieve these goals providing the perfect combination of New Zealand ingenuity and Chinese adaptability. "

The relationship and outcome was so good that HECS made FOB Direct and Warren Bird a partner in their company.

An example of the other work FOB Direct manages includes FOB Direct China working exclusively on the Bjorn Borg clothing line which is second only to Calvin Klein in that country.

New Zealand FOB Direct clients include major retailers such as Pumpkin Patch, Farmers Trading Company and Glassons. Australian clients include Myers and other chain stores.

Further Background on the Fabric Research with Creatures
The tests with divers and sharks have shown that the sharks become generally uninterested and unaware when the HECS technology is incorporated into wet suits and even more extraordinary displayed no predatory behaviour when in close proximity to the divers wearing the technology.

Further tests are being conducted by scientists with wild sharks at Stuarts Cove in the Bahamas next month.

Further Background on FOB Direct NZ and FOB Direct China
Warren Bird saw the writing on the wall for a change to the supply chain from importing of clothing to New Zealand. He realized that large clients worldwide wanted to dictate their needs and be closer to the cost source rather than working through the traditional model of importing agents. This revised business model has created an international business.