Jess Ravich as Cherokee's new Board Chairman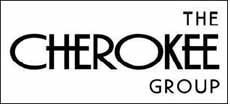 Cherokee Inc, a global brand management company, announced that Robert Margolis, is stepping down as Executive Chairman of the Board of Directors effective January 28, 2011. Over the past 20 years, Mr. Margolis has helped transform Cherokee into a leading global brand management company through his strong vision and pioneering of the retail direct licensing model.

Over the past months, Mr. Margolis has worked closely with Chief Executive Officer Henry Stupp and the Board to ensure an orderly transition process and to support Mr. Stupp as he further expands the Company's global growth strategies.

The Board also announced that it has unanimously elected Jess Ravich to succeed Mr. Margolis as non-executive Chairman of the Board. Mr. Ravich has been a director of Cherokee since May 1995. Since November 2009, Mr. Ravich has been a managing director at Houlihan Lokey, an international investment banking firm. Prior to that, Mr. Ravich was the President and founder of Libra Securities, Executive Vice President at Jefferies & Co., Inc. and a Senior Vice President at Drexel Burnham Lambert. Mr. Ravich has previously served on the board of managers of OpBiz and is the Chairman of the board of directors of ALJ Regional Holdings, Inc. In addition to his professional responsibilities, Mr. Ravich has served on the Undergraduate Executive Board of the Wharton School and the Board of Trustees of the Archer School for Girls.

"Cherokee owes a tremendous debt of gratitude to Robert Margolis for his invaluable contributions over the years," Jess Ravich commented. "It was Bobby's vision in 1995 that transformed Cherokee from a moderate apparel company to the global brand management company it is today. Most recently, he has lent his deep industry knowledge and wisdom to help further solidify Cherokee's financial position and strong brand awareness which will allow Cherokee to continue to successfully grow and increase its global footprint. On a personal note, I would like to express my deep appreciation for Bobby's friendship and counsel during the past fifteen years."

Mr. Margolis commented, "Mr. Ravich is a long-standing member of our Board and has a deep knowledge of Cherokee and the retail industry and is an expert in financial matters. He has been a trusted advisor to the Company for many years, and I am confident that under his new role as Chairman, Cherokee will continue to succeed. Henry Stupp has my utmost confidence as CEO. I am excited to witness the next dynamic phase of Cherokee's growth and spend much deserved time with my family and grandchildren."

Mr. Margolis further commented, "I would like to thank our shareholders, board members, and co-workers as it has been my privilege to serve as Chairman and CEO for Cherokee for nearly two decades. This is the appropriate time for me to step aside in order for younger executives who are investing their money and their time to further build on the very successful international Cherokee brand platform and business model."