OLYMP: from the idea to international brand in just 60 years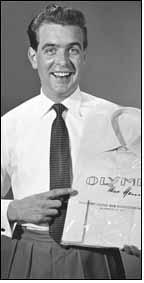 When today's OLYMP Bezner GmbH & Co. KG was established some 60 years ago, its current prominence and outstanding success as an international shirt manufacturer could not have been foreseen. Under the well-established brand logo, alluding to the legendary mountain from Greek mythology which shares the same name, a contemporary clothing product of the highest quality has since developed and one which is in great demand in many different countries. From 1951 until 2011, within three generations of the same family, a company has emerged which is expanding worldwide and is the undisputed market leader for men's shirts in Germany.

OLYMP Bezner GmbH & Co. KG based in Bietigheim-Bissingen (Baden-Württemberg/Germany) is a typical product of the German economic miracle of the post-war years and was established in 1951 by the textile entrepreneur Eugen Bezner. After returning from captivity as a Russian prisoner of war, and with just six employees, who were mainly female, he began producing men's shirts in the modest laundry of his home in Bietigheim. These shirts were initially still made from available military fabrics or finer parachute silk.

Sales of the first OLYMP shirt ranges were so successful due to the high demand in the 1950's that the small Swabian company soon needed to expand. The number of employees, above all qualified seamstresses, also grew very quickly and the initial provisional production site in Großingersheim (in the district of Ludwigsburg) had to be continuously extended every year.

With the tried and tested, sturdy "original Bezner collar", which at the time was a ground-breaking innovation of the company's founder Eugen Bezner, the original OLYMP shirt was already proving itself to be extremely durable and hardwearing. Through the product-oriented use and skilled processing of only high quality shirt fabrics, the OLYMP company was soon able to establish itself as a high quality supplier in the clothing market. This Swabian family company has embraced the same reliable and fundamental principle ever since: "The unique and uncompromising product quality forms the very foundation of our company philosophy."

In 1953, following completion of his training in textile and retail sales, Eugen Bezner's son Eberhard Bezner joined OLYMP, taking over a variety of tasks and functions. Following the sudden and unexpected death of Eugen Bezner in 1960, Eberhard Bezner, at the age of just 24, was made Managing Director and handed responsibility for the growing, medium-sized company. Eberhard Bezner regularly expanded his father's company and provided the impetus for the successful development of the OLYMP brand right through to the 1990's. From 1995 until 2010, Eberhard Bezner (75) with his son and successor Mark Bezner (47), jointly ran OLYMP Bezner GmbH & Co. KG as Managing Partners. Since 2010, Eberhard Bezner has been Chairman of the Advisory Board.

New challenges were faced in the 1970's when OLYMP was forced to shift production abroad due to the labour costs and ancillary labour costs at home and a lack of qualified sewers/seamstresses. Today, the family company has production sites in Croatia, Macedonia, Indonesia, Vietnam, China and the Philippines, and in some cases, still with the original partners. OLYMP has always been very aware of its corporate commitments and takes social responsibility in the production facilities extremely seriously.

OLYMP's business partners have consequently been awarded SA 8000:2001 certification which is a globally recognised standard. In addition, through its membership of the Business Social Compliance Initiative (BSCI), OLYMP is also committed to the maintenance of wide-reaching social standards in the manufacture of its products.