Goodyear will become top tier fashion leisure brand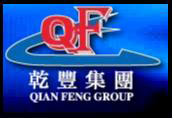 SGX Mainboard-listed Qian Feng Fabric Tech Limited ("Qian Feng" and together with its subsidiaries, the "Group"), has unveiled its strategy for its brand management unit to propel Goodyear into a "No. 1 Leisure" brand in China.

Commenting on its venture into brand management, Mr. Lin Daoqin, CEO and Executive Director of Qian Feng, said: "We are thrilled to be one of the first Singapore-listed Chinese companies to bring a well-known international brand, Goodyear, into the Chinese leisure fashion industry. Over the next 12 months, we will be focusing on establishing Goodyear as a top tier fashion leisure brand in the northeastern China."

The Company had on 9 March 2011 received a letter from the Goodyear Tire & Rubber Company ("Goodyear") confirming that Qian Feng is a Master licensee of The Goodyear Tire & Rubber Company (Goodyear), Akron, Ohio. USA. As a Goodyear Master licensee Qian Feng has been granted rights to produce, distribute, advertise and promote the products bearing Goodyear trademarks which includes, amongst others, outdoor performance apparel for men, women and children, outdoor and casual footwear for men, women and children, accessories, bags, outdoor equipment, gifts and souvenirs.

The Company is exclusively authorized to sell in Goodyear branded retail locations (shop-in-shops, license stores and flagship store) in the Peoples' Republic of China and Singapore until 31 December 2015.

First product by August 2011
The Group is in the final phase of product development and prototyping. Production of these Goodyear branded products will commence in May and will be ready to go on shelf in time for the autumn-fall season this year. The first specialty store is targeted to open in Beijing in August this year.

"Everything has proceeded as planned and we could see Goodyear's first fashion product and specialty store in China as early as August this year." Mr. Lin added.

The Group intends to invest RMB 200 million into brand management, spread out in phases over the next 5 years. This investment will be internally funded. However, the management will also consider the appropriateness of other funding options such as bank borrowings, shares placement. This investment includes investment into research and development of products, setting up of specialty stores, advertising and promotion as well as working capital. Qian Feng plans to have 10 specialty stores and approximately 30 franchise stores before the year ends, among this will be the first Goodyear lifestyle flagship store in China. Over the next 3 years, Qian Feng will be targeting to expand its number of specialty store to 300, focusing on 2nd and 3rd tier cities.

Venturing into Brand Management
Due to the impact of the global financial crisis, the performance of Qian Feng's traditional fabric industry has being lacklustre. For the 12 month ending 31 December 2010, revenue (unaudited) and net profit (unaudited) stand at RMB 274.5 million and RMB 37.7 million respectively. This is significantly lower than in 2008, Qian Feng's year of listing. For the same period in 2008, revenue and net profit was RMB 467.1 million and RMB 113.2 million. Net margin has dropped from 24.2 per cent to 13.7 per cent.