Net sales drop at Hampshire Group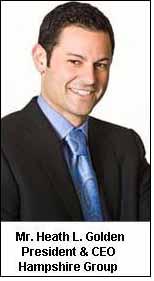 Hampshire Group Limited announced its results for the fiscal year ended December 31, 2010 and filed its annual report on Form 10-K.

Commenting on the results, Heath L. Golden, President and CEO of Hampshire Group, remarked, "Operating results in 2010 were adversely affected by a highly promotional environment and a shift in our customer's focus towards their private and exclusive brands. We expect the inflation that the industry is currently experiencing in raw materials, labor and transportation to continue for the foreseeable future.

"As a result, we remain steadfast in our efforts to broaden our customer base, expand our sales channels, manage and reduce operating costs and eliminate the non-operational costs that we incurred over the last few years. To that end, the acquisition of scott james in the second quarter marked an important first step in our efforts to expand our sales channels and attract new customers. With a strong balance sheet as we enter 2011, we remain focused on those activities that will provide growth opportunities and maximize value for all our shareholders."

Fiscal Year 2010 Accomplishments

• Reduced selling, general and administrative expenses by 15.6% from $39.7 million in 2009 to $33.5 million in 2010, primarily as the result of the Company's 2009 restructuring and cost reduction plans;
• Finished 2010 with a strong balance sheet that reflects $51.9 million in working capital, including $36.4 million in cash and no borrowings outstanding under the Company's credit facility;
• Elected apparel industry veterans to the Board of Directors;
• Settled all remaining litigation associated with our 2006 Audit Committee Investigation, which will eliminate the related costs going forward;
• Entered into a new $50.0 million credit facility with Wells Fargo Capital Finance, LLC that provides more operational flexibility at a lower cost; and
• Strengthened the men's business with appointment of menswear industry veteran Eric Prengel as President of the division and the acquisition of scott james.

Operating Results

Net sales decreased 27.7% to $46.5 million for the three months ended December 31, 2010 from $64.3 million for the same period last year. For the year ended December 31, 2010, net sales decreased by 18.6% to $134.5 million from $165.2 million last year. The decrease in net sales resulted from a decline in volume, principally in the Company's women's businesses and slightly lower average selling prices.

For the three months ended December 31, 2010, the Company had a loss from operations of $0.2 million compared to income from operations of $5.2 million for the same period last year. For the year ended December 31, 2010, the Company's loss from operations was $11.5 million compared to $11.7 million last year.

Gross profit declined $13.0 million in 2010, which was due to a one-time $5.1 million release of a supplier dispute reserve in 2009 and a $7.9 million general decline due to decreased volume and other factors. Despite this decline in gross profit, the loss from operations in 2010 remained comparable to 2009 due to the decrease in selling, general and administrative expenses of $6.2 million, decreased restructuring charges of $4.8 million, and decreased tender offer related costs of $2.1 million.