PUMA's Q1 profits up; 'Back on the Attack' works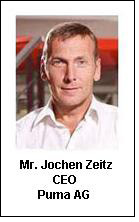 PUMA AG announces its consolidated financial results for the first quarter of 2011.

Highlights January – March 2011:

• Consolidated sales increased by 13.2% in Euro terms to a record high of € 773 million
• Gross profit margin back to a strong, sector leading 52.4%
• EBIT 2.1% above last year at € 111.0 million
• Net earnings improved by 7.1% to € 77.7 million
• EPS increased to € 5.17 from € 4.81 last year

Outlook 2011:

• Based on the success of the past quarter and the positive business development, Management targets the milestone of € 3 billion in sales for the full year 2011.

• To support business growth and the "Back on the Attack" growth strategy, investments in marketing, sales, product development as well as process optimization will continue to affect the OPEX ratio.

• Despite expected moderate price increases in sourcing costs related to raw materials and wages for the 2nd half, Management still foresees continuous improvement of net earnings by mid single-digits.

Jochen Zeitz, CEO: "The first quarter performance was a strong start to 2011 and our Back on the Attack growth plan, as PUMA managed to generate strong sales growth. We were even able to mitigate the negative impact we saw from the disastrous events in Japan last month as our Asian/ Pacific region contributed with an increase in sales to the overall solid company performance. For the full year 2011 we continue to expect an increase in net earnings in the mid single-digit percentage range with sales targeting the € 3 billion milestone for the first time.

"PUMA continues to execute on the Back on the Attack company growth plan and performs at levels consistent with reaching the long-term target of € 4 billion in sales by 2015. The recent approval of our shareholders to convert PUMA from the German Aktiengesellschaft PUMA AG to the European Corporation PUMA SE will provide our company with a broader international profile, helping to tap into the many opportunities the international Sportlifestyle market offers."

Sales and Earnings Development January-March 2011

Global Brand Sales

Worldwide PUMA brand sales – comprised of consolidated and license sales – rose by 12.5% in Euro terms (8.8% currency adjusted) to € 811.1 million from € 720.8 million last year.

Consolidated Sales

PUMA's first quarter consolidated sales reached € 773.4 million, rising 9.3% in currency adjusted terms and an impressive 13.2% in Euro terms when compared to the first quarter of 2010. This represents PUMA's best ever first quarter. All product segments showed considerable growth:

Footwear up 6.8% currency adjusted at € 417.2 million, Apparel up 2.2% at € 241.8 million, and Accessories posting a superb 42.4% increase at € 114.4 million. The strong performance in the Accessories product segment was also supported by the inclusion of Cobra Golf into the consolidation.