Mike Rowe as Lee National Denim Day ambassador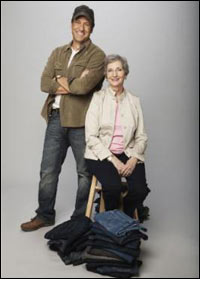 Mike Rowe, creator, executive producer and host of Discovery Channel's Emmy-nominated show, "Dirty Jobs with Mike Rowe," has been named the 2011 ambassador for Lee National Denim Day, one of the country's largest single-day fundraisers for breast cancer, benefiting the Women's Cancer Programs of the Entertainment Industry Foundation (EIF). By ditching his jeans and donating the cost of a pair, Rowe wasted no time making his mark on his newest job.

Rowe has a strong personal connection to the cause as his mother, Peggy Rowe, was diagnosed with breast cancer 14 years ago. During her battle with the disease, Peggy received emotional and social support, like that provided by The Cancer Support Community, a key beneficiary of Lee National Denim Day, through EIF. Rowe's mother is one of 2.5 million breast cancer survivors living in the United States.

"My mom is a huge inspiration to me and even though she doesn't think I have enough celebrity status to be the Denim Day ambassador, I'm glad I can be a part of such a great cause to show my support for her, as well as all breast cancer patients and survivors," said Rowe. "I'll do just about anything it takes to increase donations—I mean come on, I've already stripped down to my shorts. If people want to donate money for me to put my jeans back on, that's fine too."

Rowe bares his boxer briefs in a new public service campaign encouraging people to donate the cost of a pair of jeans to support crucial breast cancer research and support services. Peggy Rowe appears with her son in the PSA, which asks people to wear their jeans on Friday, October 7. The mother-son duo will participate in Denim Day publicity efforts, appear on Denimday.com and encourage participation through social media.

Breast cancer is the most frequently diagnosed cancer among women worldwide. Money raised through Lee National Denim Day will help the Women's Cancer Programs of EIF to fund:

• Lee Translational Laboratories, a collaboration of six of the nation's leading research institutions to find less toxic, more effective treatments
• The EIF Breast Biomarker Discovery Project, a multi-year effort led by world-class scientists to develop a blood test for early detection of breast cancer when survival rates are the highest
• The Cancer Support Community, an international non-profit uniting The Wellness Community and Gilda's Club Worldwide that provides emotional and social support to all people affected by cancer

"The Entertainment Industry Foundation is honored to have Mike Rowe as the Lee National Denim Day ambassador to help raise awareness and funds for critical cancer research," said Lisa Paulsen, President and CEO of EIF.

Members of EIF's partner, the Cancer Support Community, are also excited about and thankful for the leadership of their newest ambassador. The organization believes Rowe's connection to their cause makes him a perfect fit as the Denim Day ambassador.