Debut of Disney Cuddly Bodysuit collection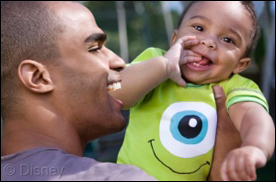 Disney Consumer Products (DCP) announced a dedicated collection of Disney Baby brand products designed to equip parents with the essentials they need for Creating Magical Moments Right From The Start.

The collection debuts with the Disney Cuddly Bodysuit, an infant bodysuit made of Disney Huggable Soft 100% Cotton with a second row of snaps that allow the bodysuit to "grow" with baby, available on Amazon.com/DisneyBaby this month and at select retailers this fall. Developed by Disney "Momgineers" in collaboration with leading licensees and manufacturers, the Disney Baby collection provides mom with conscientious products for every stage, including Apparel, Nursery, On the Go, Bathtime, Feeding, Discovery and Celebration.

he Disney Cuddly Bodysuit is the only infant bodysuit made of Disney Huggable Soft 100% Cotton and features snaps that grow with baby, outfitting baby with comfort and style through the first magical year. Disney's research found that infant bodysuits are a wardrobe staple for baby, with the average mom purchasing more than 35 bodysuits in the first year alone. The Disney Cuddly Bodysuit, however, is an infant bodysuit that grows with your baby, as the design features two rows of snaps for an inch of longer wear. As babies typically grow in length fastest, the second row of snaps provides both comfort for baby and convenience for mom.

"As a mom of an infant and a toddler, I know firsthand the information overload and uncertainties that come with transitioning into parenthood all the while trying to bond as a family," said Jessi Dunne, executive vice president, Disney Moms and Babies for Disney Consumer Products, who has also been dubbed Disney Baby's 'Chief Momgineer.' "Disney Baby aims to provide great products based on our research with moms, that deliver ease, convenience and quality with a touch of Disney magic."

In addition to features that grow with baby, Disney research indicates softness, design and durability are the top attributes mom looks for when purchasing an infant bodysuit. The Disney Cuddly Bodysuit delivers on all of these features - transitioning the infant bodysuit from an expendable item to a quality wardrobe essential allowing parents to "Welcome Your Little One With a Cuddle!"

Features of the Disney Cuddly Bodysuit include:

• Soft: Disney Huggable Soft 100% Cotton for a super soft feel against baby's sensitive skin;
• Lasting: Holds its shape through repeated washings
• Reliable: Consistent sizing for a reliable fit
• Easy: Lap shoulder neck opening make countless outfit changes easy
• ThoughtfuL: The tagless neck label won't scratch baby's delicate skin
• Better for Mom: Snaps that grow with baby for extended life
• Adorable: Over 85 magical styles to choose from, including white and solid colors with no characters, playful patterns and character-inspired designs

"With the incredible variety of styles and offerings inthe Disney Baby collection, and the uniqueness of the Disney Cuddly Bodysuit, we believe our customers will respond enthusiastically to this offering, and we're proud to be the first to bring this mom-friendly and adorable bodysuit to moms and babies," said Stacy Kerr, director of clothing for Amazon.com.