Phuoc Long & Lagardère sign deal for Elle brand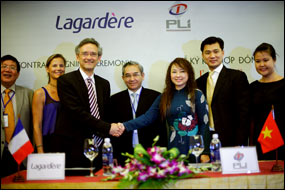 Contract signing ceremony between Phuoc Long Investment JSC (PLI JSC) and Lagardère Active (France), multinational group, took place at Sheraton Hotel, marking the licensing of fashion brand Elle.

After almost two years of market research and partner matching, Lagardère and PLI are proud to announce the partnership on Elle license. Effectively, all Elle designs, including menswear ( Elle Homme), womenswear (Elle), men's underwears and women' lingeries will be designed and produced exclusively for Vietnam market, according to international standard of quality control and latest world fashion trends.

Regarded as a rising market with increasingly sophisticated demands, Vietnam has gradually developed its particular and delicate requirements, especially in fashion. With over 40 years of experience in spinning, weaving, sewing, FOB manufacturing & exporting, and lately international fashion licensing, PLI has proved its capacity and ability to bring Elle to the leading position in Vietnam market.

Since 1945, Elle magazine has been regarded worldwide as dictionary of style, boasting the world's largest circulation. Encouraged by this success, Elle was confident to introduce its own fashion brand to demonstrate its vision of fashion and fulfill the role of style consultant for ladies. Elle fashionhas been present in Vietnam for 10 years, primarily noticed for its sophisticated and luxurious suitcases, bags. Together with the introduction of Vietnamese version of Elle magazine in November 2010, Lagardère Active, the proud mother of Elle magazine, in cooperation with PLI, attempted to bring consumer experience of Vietnam to a new level, bringing exclusive designs with a French flair to Vietnamese domestic market.

In the future, there would be Elle café, a favorite hang-out of fashionistas and Elle fans, together with Elle spa, Elle resort, Elle distilled water to complete the experience of Parisian elegance for Vietnamese customers.

Elle style hinges on four values: Proximity, Open-mindness, Freedom, Optimism. Elle's role models are modern women, never a fashion slave, but those who dearly love and maximize the limitless creation of fashion. Elle is feminine, curious, creative, fond of experiments of new styles with distinguished confidence and elegance of the City of Light. Elle brings runway designs to everyday life without losing the magical touch of fashion.

Experiencing Elle is to immerge in boutiques reminiscent of pretty little Parisian apartments, with walls full of magazine cut-outs and details that spring light joy into the heart. Offering full range of clothing: denim, T-shirt, knitwear, dresses of latest trends, Elle makes the perfect choice to go to work, go out, even for weekend activities such as gardening or redecorating walls with latest pattern from Elle Décor, such activities in a day of an interesting young woman.

Encouraged by considerable success of Elle brand for women over last 30 years, Elle was confident to venture into male fashion by the birth of Elle Homme, encoding joie-de-vivre spirit into its designs. Men can find pieces to complete his wardrobe without losing sights of the latest trends happening.