Rudy launches transnational skill standards in India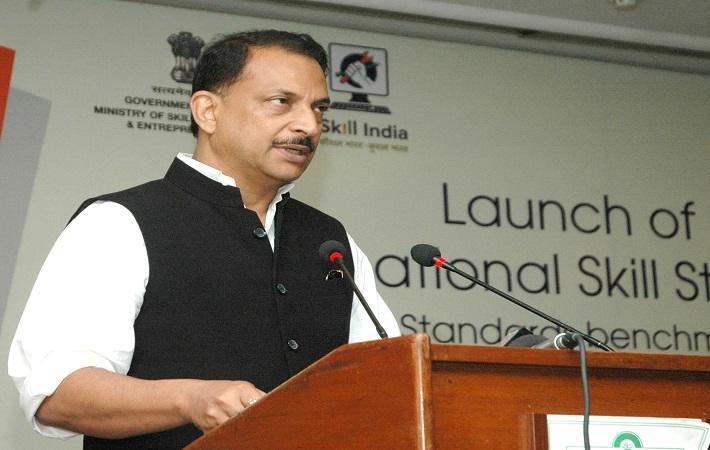 Minister of State for Skill Development and Entrepreneurship Rajeev Pratap Rudy launched "Transnational Skill Standards" in India on Tuesday with the aim to support two major initiatives of the Government - "Make in India" and "Skill India" and to align to skill standards which are recognized globally, according to an official press release.

These standards in skill development are benchmarked to UK across 82 identified job roles including Creative Skill Set for apparel and textiles sector. British High Commissioner to India Sir Dominic Asquith and Secretary, Ministry of Skill Development and Entrepreneurship, Rohit Nandan along with several stakeholders were present on the occasion.

In his inaugural address, Rudy said that standardisation of vocational education is crucial in bringing about a level in the efficiency of the skilled workforce. He said, it is government's endeavour to benchmark the standards so as to support international mobility of Indian workforce and also prepare them to work in international companies having their operations in the country. He said, his Ministry has chosen UK standards to benchmark Indian Skills standards since all the Gulf Cooperation Council (GCC) countries recognize UK skill certification.

British High Commissioner Asquith said that India and UK have been collaborating on skill development since a long time now and this is yet another effort to bring more quality in vocational education which will open more avenues for employment across countries for the youth.

During the event two MoUs were signed between NSDC and Association of Colleges (UK) and NSDC and UK Awarding Organization City & Guilds and Pearsons Education. These MoUs were signed to enable sharing of best practice, staff exchange and development of new models to increase employer engagement and investment in skills, the release said.

To support international mobility of Indian workforce, 15 Indian Sector Skill Councils (SSCs) have benchmarked standards of 82 job Roles with the standards of 11 UK SSCs.

The Transnational Standards will highlight the gaps in Indian Standards against the UK standards. To cover the gaps, those intending to migrate, will undergo 'bridge training'. The Further Education Colleges (FE) of the UK will partner with Indian Training Providers to impart training on bridge courses. FE Colleges to set up Skill Academies of Excellences in the identified sectors in India.

Further, the UK Awarding organization, such as City & Guilds and Pearsons, in association with Indian SSCs will certify the trainees on the gap.

The key highlight of this partnership is recognition of the Indian SSC Assessment and Certification by the UK Awarding bodies. Those interested to migrate will simply have to take "bridge training" on the gap identified in the benchmarking process and get assessed on the components of the "bridge training". Thus just by doing "bridge training" and getting assessed and certified on it, will lead to award of UK IVQ which has a global acceptance including Gulf Cooperation Council (GCC) countries.