Tempe opens logistics hub at Elche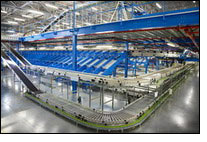 Tempe, an Inditex Group company which designs, manufactures and distributes footwear and accessories to all Inditex fashion retailers (Zara, Pull&Bear, Massimo Dutti, Bershka, Stradivarius, Oysho, Zara Home and Uterqüe) inaugurated a logistics hub in Elche, Spain. The company in coming years will steadily increase the volumes the facility processes. The new complex, located at the Elche Industrial Park -- also the site of Tempe's headquarters and its first logistics centre -- will enable Tempe to boost its annual distribution capacity to more than 100 million pairs of shoes.

The new complex, a distribution centre spanning 63,000 m2 of floor area and total built floor area of 105,000 m2, features cutting-edge logistics technology. Its automated storage and distribution systems will allow Tempe to expand its product handling capacity to keep pace with retail sales growth at the Inditex Group's fashion retailers. The company has invested more than 100 million euros in the site.

Tempe distribution hubs take delivery of all footwear manufactured for Group retailers by the company's suppliers in Spain and the rest of the world. The centres stack and store product and send the merchandise to the Group's stores worldwide. With the launch of the Elche site, Tempe's floor area in logistics will total nearly 150,000 m2.

Flexibility and rapid turnaround times at distribution centres are essential for Tempe, as fresh product departs its logistics hubs weekly bound for Inditex's more than 5,000 stores in 78 countries. This is a highly challenging activity due to the number of footwear styles and sizes handled annually -- more than 16,000 in the case of Tempe -- and their volume: in 2010 alone, Tempe sent more than 40 million pairs of shoes to stores worldwide.

To offload and dispatch merchandise, Tempe's new distribution site is equipped with 78 loading bays. The loading bay area features telescopic belt conveyors which are inserted into lorry trailers and which move goods on belts to the storage warehouse.

The warehouse, 20 metres tall and spanning more than 20,000 of floor area, can store up to 9 million pairs of shoes. It is outfitted with miniloader and stacker machines which enable automated overhead merchandise storage and record each model's reference number and location. Computer-controlled stackers locate items scheduled for delivery to stores and move them via an automated system to the sorter, a mechanical device which facilitates the distribution process.

The sorter is a finely tuned system which allows the company to assemble a customised order for each store. It consists of 22 intake points, three kilometres of conveyor belts and 1,200 exit hoppers equipped to process up to 22,000 units per hour. Stores' order batches are carried to the dispatch area on conveyor belts to be sorted by delivery destination. The bulk of items are delivered by land, though the loading bays also feature an area reserved for packing goods set for delivery by air. The entire system ensures that product lands in European stores within an average of 24 hours, and within 72 hours in the case of more distant stores in the Americas and Asia.