Govt reform to benefit only the rich - CMKOS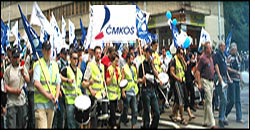 Chairman of the Czech umbrella union CMKOS, Milan Stech, told the reporters on January 15 that the organization was planning to demonstrate a strike against the impact of Government's public finance reform and other planned measures if a majority of employees join the protests.

More than 33 unions affiliate with CMKOS representing some 600,000 employees in the 10-million Czech Republic.

Henceforth, every protest held against the Government will be organized by CMKOS. Mr Stech asserted that changes in the tax, social and health areas that took effect on January 1 would mainly affect families with children, pensioners and low-income employees. On the other hand it would benefit only the affluent section of the society.

Mr Stech also said that the government's reform policy would only aim to increase the budget deficit which will in turn become an argument for the privatization of public services, or education and health care facilities.

Besides, it would also increase inflation and the Czech Republic would probably not meet its set objective of adopting euro currency this year.

The only outcome expected out of these protests is that the audits of the state budget's expenditure must be made and the administrative burden should be lowered. CMKOS essentially calls for a prompter and more effective way of drawing money from EU funds.