Gurgaon has Reliance TimeOut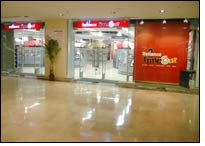 Reliance Retail Limited (RRL) announced the launch of its second specialty store "Reliance TimeOut" at 127, 1st Floor, Ambience Mall, Gurgaon 122001, Haryana. This store houses Books, Music, Stationery, Toys and Gifts.

After the successful launch of Reliance Fresh, Reliance Mart, Reliance Digital, Reliance Trends, Reliance I store, Reliance Footprint, Reliance Wellness, Reliance Jewels and Reliance Super this is another format of stores from Reliance Retail.

Spread over 41,000sq feet and with over 1,00,000 products, Reliance TimeOut offers customers an extensive range of merchandise in Books, Music, Stationery, Toys and Gifts.

Reliance TimeOut is all set to revolutionize this business with its unique combination of wide product range and an exciting customer experience.

Commenting on the launch of Reliance TimeOut, Mr. Bijou Kurien, President and Chief Executive Lifestyle said "In world, with all the pressures, stress and workload at office, home and school, we need a place where we can unwind and relax, where we can browse, buy a book, sample some music, choose a gift, buy a toy, or some exclusive stationery for ourselves.

At Reliance Timeout, we offer a comprehensive range of products in these categories along with a fascinating customer experience in a warm, lively ambience". In Books, Reliance TimeOut has over 60,000 titles, sourced from National & International publications.

Recognizing customer preference for self-help and professional development the store has an impressive range of non-fiction books. Reliance TimeOut also has a range of Academic and Professional books and Vernacular books in 6 languages, apart from fiction, popular genres and a huge children's section.

To help enhance this experience the store has a kid's wall, where kids can cuddle-up with a book. In Music and Movies Reliance TimeOut has over 25,000 titles sourced from leading international and national music companies.