Wal-Mart Mississauga store carries eco-friendly bamboo apparel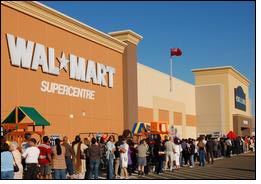 Wal-Mart Canada opened the doors of its 300th store this morning, a Wal-Mart Supercentre in the Heartland retail district of Mississauga, Ontario.

The flagship store welcomed thousands of customers in the first hour of operation - including a line up of hundreds waiting for the 8 a.m. ribbon cutting.

"Wal-Mart Canada is a strong business getting stronger," said David Cheesewright, Wal-Mart Canada's president and CEO, during grand-opening remarks at the 300th store this morning.

"As we get ready to open the doors of our 300th store here in Mississauga, our 301st store is scheduled to open later this morning in Peace River, Alberta. Demand for our stores is high and we are responding."

The continued growth of Wal-Mart Canada's business including as many as 27 new or expanded stores planned nationwide for the current year - is built upon a foundation begun in 1994, when Wal-Mart Canada took over operations of a struggling chain of 122 Woolco stores.

Since that time the company has constructed 255 additional or relocated stores and expanded 28 stores, investing several billion dollars into the local economy and creating approximately 100,000 in-store and construction trade jobs.

"Wal-Mart is a business of progress and opportunity," said Cheesewright. "Our chain is growing, our team is growing, and the opportunities to be part of a business at its best are growing."

As the fourth-largest employer in Canada, with a growing team of more than 75,000 associates, the company estimates that the equivalent of one in 100 Canadians has at some point worked for Wal-Mart.

New format Wal-Mart Supercentres, require larger teams of associates and management - a team of more than 500 in the case of the newly opened 300th store, which received more than 3,500 job applications.

Supercentres also offer a larger assortment of merchandise, combining Wal-Mart's traditionally strong general-merchandise selection with a full assortment of groceries.

Canada's first three Wal-Mart Supercentres opened in Ontario in October, 2006. By day's end there will be 34 in three provinces - Ontario, Alberta and British Columbia.