Amerigon ties up with Classic Soft Trim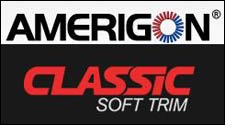 Amerigon Incorporated, a leader in developing and marketing products based on advanced thermoelectric (TE) technologies, and Classic Soft Trim (CST), one of the world's leading aftermarket providers of leather-trimmed interiors and other luxury features, jointly announced an alliance to sell patented Amerigon heated & cooled seat systems in the custom car, retrofit and automotive aftermarket industry nationwide. This agreement gives CST a limited exclusive right to market & install the Amerigon Climate Control Seat(R)(CCS(R)) system and Amerigon's heated & ventilated seat system through CST's national dealer network and other authorized and certified installers.

"This is a significant new venture for us with a partnership in a very important market," said Amerigon President and Chief Executive Officer Daniel R. Coker. "We have searched long and hard to find the right partner for an aftermarket venture and we believe we have found it in Classic Soft Trim. The company is the leader in providing luxury interior accessories to new car dealers, custom car brands such as Roush, as well as the Class 8 truck and recreational vehicle market. Classic Soft Trim provides these retrofit products and services though its well trained professional marketing and installation staff. We are confident it has the necessary resources, certifications and geographical company-owned facilities needed to be successful. We look forward to a very prosperous relationship."

Classic Soft Trim, based in Austin, Texas, is a major supplier of premium quality leather interior kits for the automotive industry. The company is ISO 9001 certified and, with past OEM partners such as Mitsubishi, Nissan, Toyota TRD, Ford Racing, Isuzu and Subaru, CST markets and installs its products through 23 centers throughout the U.S., including most major cities, and an extensive North America network of authorized installers.

Classic Soft Trim typically targets premier custom cars as well as high production volume vehicles such as the Toyota Camry, Chevy Silverado, Chevy Tahoe, Chevy Suburban, Ford F150, Honda Accord, Toyota Prius, Nissan Altima, as well as other models that could benefit from added custom features like heated and cooled or heated and ventilated seats.

"Amerigon is the global expert in thermoelectric-based heated and cooled seats, we're the custom seat experts," said Dwight Forrister, President, CEO of Classic Soft Trim. "Many of our customers are looking for additional interior luxuries, like the comforts that come with heated and cooled seats in any weather condition. We believe our extensive dealership network will welcome the availability of these new features."

In the CCS system, which is built around Amerigon's highly-efficient, solid-state thermoelectric device, air is forced through the heat pump and thermally conditioned in response to electronic switch input from the seat occupant.The conditioned air circulates by a specially designed fan through ducts in the seat cushion and seat back, resulting in a surface that can be heated or cooled. Each seat has individual electronic controls to adjust the level of heating or cooling. CCS substantially improves comfort compared with conventional air conditioners by focusing the cooling directly on the passenger through the seat, rather than waiting until ambient air cools the seat surface behind the passenger.