isiZulu and making of 'JABULANI'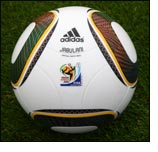 In Cape Town, adidas and FIFA present the adidas "JABULANI", the Official Match Ball for the 2010 FIFA World Cup South Africa. The "JABULANI", which means "to celebrate" in isiZulu, features a South African inspired design and radically new technology.

The newly developed "Grip'n'Groove" profile provides the best players in the world with a ball allowing an exceptionally stable flight and perfect grip under all conditions. Comprising only eight, completely new, thermally bonded 3-D panels, which for the first time are spherically moulded, the ball is perfectly round and even more accurate than ever before.

The name:
The name "JABULANI" originates from the Bantu language isiZulu, one of the eleven official languages of the Republic of South Africa, which is spoken by almost 25% of the population. Literally translated, "JABULANI" means "to celebrate". Football is a passion that unites the world. The name of the new match ball appropriately pays tribute to the passionate football celebration international fans will enjoy in South Africa next summer.

The design:
Eleven different colours are used in the adidas "JABULANI", the eleventh adidas World Cup ball. These 11 colours represent the 11 players in every team, the 11 official languages of South Africa and the 11 South African tribes that make the country one of the most ethnologically diverse countries on the African continent. The colourful design brings together the tremendous diversity of the country in harmonious unity. Four triangle-shaped design elements on a white background lend the ball a unique appearance in African spirit. And like the outer facade of Johannesburg's Soccer City Stadium, individual design elements also capture the colourfulness of South Africa.

3-D panel shapes:
The Match Ball for the 2010 FIFA World Cup features a completely new, ground-breaking technology. Eight 3-D spherically formed EVA and TPU panels are moulded together, harmoniously enveloping the inner carcass. The result is an energetic unit combined with perfect roundness. Following the first tests, players all over the world are enthusiastic and are promising many goals with the new ball.

Michael Ballack: "Fantastic, the ball does exactly what I want it to."
Petr Cech: "You can feel the energy coming towards you, like a shot."
Frank Lampard: "A very strong ball, true to hit."
Kaká: "For me, contact with the ball is all-important, and that's just great with this ball."

Grip'n'Groove profile

Aero grooves:
Aero grooves create the clearly visible profile on the ball's surface. The Grip'n'Groove profile circles round the entire ball in an optimal aerodynamic way. The integrated grooves provide unmatched flight characteristics, making this the most stable and most accurate adidas ball ever. The ground-breaking performance features of the adidas "JABULANI" have been confirmed in comprehensive comparison tests at Loughborough University in England and countless checks in the wind tunnel and the adidas football laboratory in Scheinfeld, Germany.