Global leather industry's conduit into China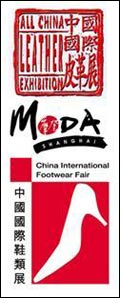 International companies have been using the All China Leather Exhibition (ACLE) as their prime conduit into the China market for the past 12 years. The up-coming event runs 1 - 3 September 2010 in Shanghai.

It is a period in which the Chinese leather industry has grown, developed and is, today, the world's largest. Moreover, and untypically in the present world economic climate, China's leather industry looks set to continue its expansion. Not only in volume but, significantly, in terms of range, quality and innovation.

Much of this development in China has come about because international tanners, chemical suppliers, machinery manufacturers, etc. anticipated these developments. ACLE, was - and continues to be - the platform of choice for many international companies looking to enter the China market.

ACLE is a joint-venture between APLF, the company responsible for the leather industry's global meeting place in Hong Kong, held every March, and the China Leather Industry Association, the only officially recognised trade association for the leather sector in China.

As in previous years ACLE runs alongside two other substantial, and related, trade events. The China International Footwear Fair (CIFF) and Moda Shanghai - the latter devoted primarily to leather garments. Entry to either ACLE or CIFF allows entry to the other.

The three events, ACLE, CIFF and Moda Shanghai run 1 - 3 September 2010, at the New Shanghai New Expo Centre, Pudong. To accommodate the almost insatiable growth in demand for exhibition space this year the total area will be enlarged to occupy six exhibition halls.

Visitors to ACLE will find the complete range of leather making products and services represented. Exhibits include raw material hides and skins, semi- and finished-leather, exotic leathers, tannery machinery, chemical companies and suppliers of services such as CAD/CAM and local and overseas trade organisations. CIFF and Moda Shanghai feature footwear together with a variety of finished products.

From its inception in 1988 ACLE has experienced steady growth in keeping with the industry's development in China. China's leather industry is the world's largest - which it has been for some years - but is now moving increasingly 'up-market'. Demand for the very latest products, innovations and trends from around the world are greater than ever.

In 2010, we estimated the numbers of visitors could reach 14,000. And some 1,005 exhibitors from 39 countries and regions will be represented. The overall size of international halls is around 35% larger, with the increase coming from all sectors, but with the leather making and chemical sections recording increases of 37% and 36% respectively. Several countries, Brazil, Italy and Pakistan have each increased their participation substantially, while the Turkish pavilion is larger by 40%, that of France by 39%, of Brazil by 28%, the Italian pavilion organised by ASSOMAC is up by an impressive 64%. The Indian pavilion is 2.3 times larger, and the Taiwan Footwear Manufacturers Association is 2.6 times than in 2009.