LANXESS expands Iron Oxide manufacturing facility in Jinshan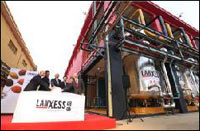 German Specialty Chemicals Company LANXESS announced it inaugurated a new production unit for high quality black iron oxide pigments at its site in Jinshan, Shanghai. The produced color shades are the most advanced bluish type black pigments in the industry.

With the annual capacity of 10,000 metric tons of black iron oxides, in addition to the already existing 28,000 metric tons of high quality yellow iron oxides, LANXESS can service customers globally out of the most sophisticated iron oxide plant in Asia with these high-end Bayferrox pigments. Important market segments for these products are the construction industry and the paints and coatings sector, as well as the plastics and paper industries.

The rising demand for inorganic pigments in China is mainly driven by China's ongoing urbanization. This mega-trend has led to a boom in the construction and paint industry. LANXESS' new production unit progresses further in new markets for the bluish type blacks in the Asia region including China, Australia and India.

"With the inauguration of this manufacturing unit for black iron oxide pigments, LANXESS' global capacity for iron oxide pigments will be further increased, and our product portfolio will be extended to meet our customers' specific demands even better," said Joerg Hellwig, Global Head of the LANXESS Inorganic Pigments business unit.

The new facility also sets standards for the region and the world in terms of environmental protection. The manufacturing unit not only recycles by-products from other processes into high quality black iron oxide pigments, it is also among the first in the country equipped with an ultra-modern wastewater treatment facility that is directly linked to an industrial water treatment plant. Thanks to this modern wastewater treatment technology and closed circuits throughout the whole plant, significantly less wastewater is generated in comparison to existing production units in the region. The process is not only evidence of LANXESS' many years of experience in ecological and sustainable manufacturing, but also raises the bar for the whole industry.

"We are uncompromising when it comes to environmental protection. All of this shows that LANXESS places tremendous importance on all aspects of environmental protection," said Dr. Wolfgang Oehlert, Vice President of LANXESS Inorganic Pigments business unit in Asia Pacific. "We go farther and think further ahead than others. By doing so, LANXESS demonstrates that it understands how to successfully combine economic growth with environmental responsibility."

LANXESS Inorganic Pigments started production in Shanghai in 1996. In 2008, LANXESS acquired this manufacturing site for iron oxide pigments in Jinshan. In April 2010, LANXESS completed the first phase of the technical improvement for the yellow iron oxide pigments production. The plant can run at a full capacity of 28,000 metric tons. The second phaseis scheduled for completion in 2011 and will again reduce the plant's emissions and further improve its already world-class environmental performance.