Cultivating fresh minds in manufacturing of leather goods!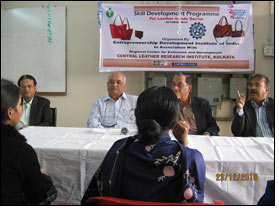 A Skill Development Programme for the manufacturing of Leather Goods had been organized for people belonging to the weaker sections of society where even bearing the transportation cost was a problem for them. Hence, they had been provided with the travelling allowance and a stipend. A separate arrangement had been made for their daily meals as well. This was a seven weeks training programme starting from October 25 to December 12, 2010.

This programme was organized by Entrepreneurship Development Institute of India (EDI) in association with Regional Center for Extension and Development Central Leather Research Institute, Kolkata, supported by Small Industries Development Bank of India (SIDBI), World Bank, Department for International Development (DFID),GIZ and KfW.

The main areas that were covered in the training programme were broadly divided into Cutting and Clicking, which included diverse subjects like:-

• Numerical calculations.
• Area calculation of regular figures (Geometric).
• Conversion of measurement in one unit to another unit.
• Cutting – hand and machine (clicking).
• Placing of pattern for cutting both on leather and plastic coated fabric.
• Calculation of percentage of wastage.
• Knowledge about leather – surface quality of leather and defects.
• Practice of splitting.
• Component clicking of small coin case.
• Component cutting of different models.

The last phase comprised of Stitching and Assembling which covered various topics like:-

• Introduction to the sewing machine.
• Demonstration with running the sewing machine and paddle practice and use in plain sheet.
• Straight line stitching, curving line stitching (paper) without thread.
• Straight line stitching.
• Needle fixing and sewing machine parts.
• Doing upper and under threads passage.
• Doing plastic coated fabric straight and curve line stitching with threads.
• Doing skiving operation with leather.
• Doing different types of folding, edge finish and piping making.
• Doing small goods fabrication.

The 7 weeks training programme ended with a valedictory session, certificate distribution by the Honourary Director of CLRI, Prof. Dr. Asit Baran Mandal and interaction of the entrepreneurs with the participants of the training programme. Since most of the participants were unemployed, the entrepreneurs assured them placement after that. The entrepreneurs interacted with each and every participant, tried to know their areas of interest, their goals and work strategy.

Mr. Paresh Rajda, the proprietor of 'Rajda Industries and Exports Pvt. Ltd.' and the Regional Chairman (East) of Council for Leather Exports (CLE), commented on this endeavour that it was not the end but just the beginning and he addressed the participants by saying that they should not be complacent and pursue their dreams actively, probably even by working in the mornings and completing their study by attending evening classes.