ToT on Design Development with Moda Pelle Academy, Italy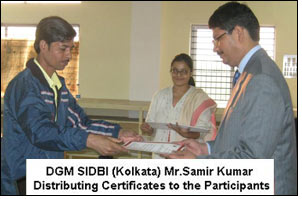 A Design Development Programme on the Training of Trainers was conducted by Moda Pelle Academy, Milan, Italy, in association with Freya (IIDF) and organized by Entrepreneurship Development Institute of India, under the project Implementing Business Development Services in the Kolkata and Santiniketan Leather Clusters, supported by Small Industries Development Bank of India (SIDBI), World Bank, Department for International Development, GIZ and KfW.

The primary intention of the programme was to develop design Business Development Services (BDS) who can not only take care of high-end design requirements in the overseas market but also train others on design development.

Gionata Gaudiano and Daphne Stern, two internationally acclaimed Italian fashion consultants have been brought from Milan, Italy, to impart training on the various trends existing in the Italian and Japanese markets. The training programme was been organised from 18 – 22 December, 2010.

The major beneficiaries of the programme were 15 designers who had participated in the training programme from various public and private institutions and cluster MSMEs.

The main benefits of the programme were creating awareness as regards the effective utilization of the latest design techniques and modern design trends, exploring linkages and network formation amongst indigenous, national and international design BDS.

The training was to mainly enhance high-end design capability of existing private and public institutions and MSMEs and to capture aspects like brand-building, business and market development. The main application areas covered were combining traditional and innovative styles, concept of 'Kawaii' or concept of sweetness/cuteness in design motifs and patterns to capture the market for children's products, distribution, precision (knowing your niche, main opportunities), goals, participants presenting their company's current production with an eye on the Japanese market, examples of winning designs for Japan and applying them to the Indian products.

Apart from discussion on high end design development, fashion trend in the overseas market, the issue of transferring design skill under ToT mode was done. Moreover, in order to complement the forthcoming brand building and market development initiative in Japan, issues like Historical context, Japanese tastes, Street styles, Economic climate, Current trends, Current successful Italian brands in Japan, Design Orientation, Branding and Relationships and Promotion strategies were discussed at length.

The trainers spoke about various facets of trend, design, market and mesmerized the audience with their vast experience and knowledge in these arenas.

The qualitative benefits that the beneficiaries achieved were the vivid picture of the tastes and preferences of the Japanese customers, understanding the economic climate of Japan, current and popular trends existing in Japan, Italian influence and successful Italian brands existing there, design orientation, branding and relationships and various promotional strategies.