iMaster H2O dyeing unit meets demand of Bitex Textilwerk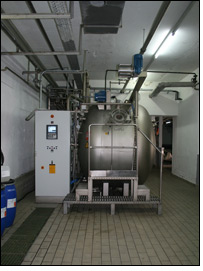 German commission dyeing specialist Bitex Textilwerk has taken delivery of the recently introduced iMaster H2O dyeing unit for its range of technical textiles for the automotive and shoe industries and quality fabrics for ladies underwear and for compliance with its strict 'green' strategy.

Although only formed 10 years ago, following a management buyout by new owners Herr Rudolf Mogg and Herr Hans Buchmann, Bitex has quickly gained an enviable reputation for it's high quality commission dyehouse operations; guaranteeing constant continuity of batch dyeing.

According to Dyeing Manager, Christoph Hamm, the success of Bitex is due to its ability to be "flexible, promise fast turnaround and meet 100% colour match, everytime."

Working with technical textiles for the automotive and shoe industries, the company also wash, bleach and dye quality fabrics for ladies underwear producers.

Textiles include tubular and open knits featuring 100% cottons, wool, polyester, polyamide, polymodial and elastane blends.
Tubular knits are generally 20 – 50 cm dia and open widths cut to 1.55 m wide with weights ranging from 20 gm/m² to the heaviest, a single jersey, at 290 gm/m². Typical examples include 100% cotton at 160 gm/m² and cut to an open width of 1.55 m for shoe linings.

Having joined Bitex shortly after its formation in 2001, as Dyeing Manager, Christoph recalls that the company retained around 70% of the previous company's clientele and work load, but recognised the need to meet new dyeing demands and techniques, and to seek alternative 'niche' markets.

"We have since become recognised as being able to overcome problems, such as 100% colour matching, which other dyehouses were unable to meet" he said, continuing, "Typically, we have just successfully met sample tests and a nominal 20 kg batch run for a ladies underwear producer."

The renown German company had experienced problems with a previous supplier in meeting continuity of colour matching.

Bitex have been able to ensure colour matches for a series of difficult colours including Petrol Blue, Berry Red and a shade of Brown and is now beginning production batches, using its Thies TRD four-chamber dyeing machine.

Having inherited five Thies dyeing machines – one almost 30 years old – Bitex has since ordered three further Thies models as the business has grown.

"We specifically ordered the TRD for its ability to accurately dye large batch runs of fabrics including polymodial and elastane blends," confirmed Christoph.

But it is the latest delivery of the recently introduced iMaster H2O dyeing unit which is causing considerable excitement at the Bitz-located mill close to Germany's renown and picturesque Schwarzwald (the Black Forest) region.

"Today, like many dyehouses, we have had to introduce a very stringent 'green' policy which includes recirculating water and steam in order to reduce our water and heating costs."

For more than a century the name of Thies GmbH & Co KG has been synonymous with innovation and advances in textile finishing.