Commuter by Levi's meets the need of modern worker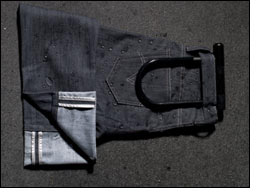 The Levi's brand is proud to introduce Commuter by Levi's – clothing designed and optimized specifically for the needs of the urban commuter cyclist. Arriving in select Levi's Stores this week, the 511 and Trucker Commuter products integrate an array of features that address cyclists performance, convenience, safety, mobility and protection needs while maintaining the durability and classic styling that people expect from the Levi's brand.

The launch of these products builds upon the Levi's brand's commitment to innovation while tying back to the new global 'Go Forth' campaign which is a rally cry to create positive change in the world.

Erik Joule, senior vice president of Levi's Men's Merchandising & Design says, "This product was born from innovation, classic American style and a personal passion for cycling – it's about designing product for people who ride bikes, by people who ride bikes. We knew that our jeans were already being worn by urban cyclists across the country, including our own designers. We listened to what they wanted and created a product with performance traits for biking that also functions as daily street wear."

Built around the 511 Skinny Jean, the Levi's brand's most popular skinny fit for men, the 511™ Commuter features fabric and construction upgrades that increase mobility and durability, while protecting cyclists from the potential hazards of their daily commute. The 511™ Commuter comes in two styles – a full length and cropped version – and both denim and non-denim fabrics. The series also includes a Commuter version of the classic Levi's Trucker Jacket, an iconic work wear style that was first introduced in 1962 and has now been updated for the modern worker who demands performance and style on and off the road.

All Commuter by Levi's products blend form and function by utilizing the most cutting-edge performance apparel technologies. The Levi's brand partnered with Swiss-based Schoeller Technologies AG to be the first to introduce NanoSphere treatment into denim fabrication. NanoSphere technology makes denim fabric water resistant, dirt repellant and more durable.

The Levi's brand also consulted with technology-expert Clariant, a global supplier of specialty effects for textile, in order to implement the invisible but powerful technology that makes Commuter by Levi's clothing so unique. All Commuter products feature Sanitized™ hygiene function, which provides protection against odors for long-lasting freshness and comfort, and 3M Scotchlite which subtly integrates 300,000 candle watt reflectivity into key areas of the garments.

In addition to these performance technologies, the Levi's brand also leveraged its own insights and superior construction techniques to make their new cycling products more commuter-friendly. Both the Commuter by Levi's Trucker Jacket and the 511 Commuter Skinny feature just the right amount of stretch to increase mobility while maintaining their signature fit.