Bsp invests in lifestyle brand DwellStudio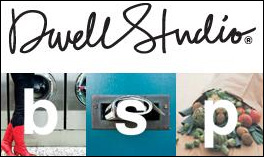 In a significant move that continues the rapid growth of its portfolio of well-known consumer brands, Brand Sense Partners, LLC ("bsp") announced a strategic investment in leading lifestyle brand, DwellStudio.

Founded in 1999 by designer Christiane Lemieux, DwellStudio sells a broad range of home textile products, case good and upholstered furniture, and baby and kids products. In addition, the brand operates a shop-in-shop at ABC Home in New York City. DwellStudio can be found in over 750 retailers and over 2,000 doors in 30 countries worldwide.

As an established leader in brand management, strategic consulting, licensing and design, bsp has a long and successful track record of partnering with brand owners to manage their intellectual property more effectively and profitably. DwellStudio represents the second major home furnishings investment for bsp, who also owns a controlling interest in the iconic Shabby Chic brand.

"We have been actively seeking investment opportunities where we can leverage our capabilities and drive incremental value for brands in the home furnishings arena," said Ramez Toubassy, President and CEO of bsp.

"As both admirers and long-time customers of the DwellStudio brand, we are very excited to be partnering with Christiane, CEO Joshua Young and the rest of the DwellStudio team as we work together to take the DwellStudio business to the next level."

bsp's strategic investment will allow DwellStudio to focus on continuing the brand's growth within the wholesale and direct-to-consumer channels. In addition there are plans to open a flagship store that will allow the company to merchandise the entire collection together for the first time. bsp will be taking a hands-on operating role in helping drive licensing, international and business development initiatives.

"The DwellStudio business is as strong as it has ever been and, with the capital and expertise being brought to bear by bsp, we believe we are in an incredible position to continue all of our positive momentum," said Joshua Young. "This is a great next step for our brand and we are very excited about the many new initiatives we already have in progress."

"We are thrilled to have found a partner in bsp that truly understands my creative vision and is as passionate as we are for the brand. After 10 years of organic growth it is very exciting to super-charge the business. The future for DwellStudio is limitless," said Christiane Lemieux.

DwellStudio was born as Dwell Home Furnishings, in 1999. Founder and Creative Director Christiane Lemieux, a veteran of the worlds of fashion and home retail, wanted to offer the discerning customer a range of vibrant and modern textile designs. The company quickly gained a devoted following. Marked by a signature use of color and a sincere commitment to the highest quality, the DwellStudio name is synonymous with adventurous design and impeccable construction.