Surprising developments from Mayer & Cie at ITMA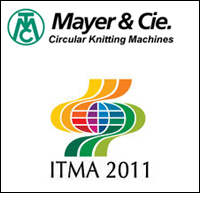 For many decades it has been good tradition at Mayer & Cie. to refresh the circular knitting machinery sector with partly revolutionary developments for ITMA. Following this tradition, Mayer & Cie. will come up with surprising developments this year again in Barcelona – ones likewise addressing producers of standard goods as well as of niche products.

With five machines introduced hereafter plus one surprise Mayer & Cie. will enter the contest at this year's ITMA in Barcelona.

Relanit 4.0 – The high speed world champion among the single jersey machines. The latest version of the ultra high speed series from Mayer & Cie. achieves incredible 70 revs. in a 30" machine during the production of plain single jersey fabric with a speed factor of 2100 thus facilitating production quantities of more than 1500 kg per day!!

The belt drive is controlled over special servo motors which can be operated from the display of the machine. This guarantees an exact yarn supply and avoids fluctuations in the yarn quantity supplied which in general can appear because of lint and oil accumulation when working with belt drives with quality wheels. In order to further increase the efficiency of the machine the Relanit 4.0 has got a computer-controlled knit-on aid which increases the yarn tension for the knit-on process automatically for a short time and makes the knitting-on a piece of cake.

S4-3.2 II R – The world champion in single striper fabrics. Production quantities so far unreached in the production of single jersey striper fabrics do become reality now. The new S4-3.2 R II combines productivity and flexibility in a way so far not imaginable. It is the first striper machine in the world being in a position to produce single striper fabrics with 3 or - by combination of individual feeders also with more colors - at 3.2 knitting feeders per inch.

While the majority of striper fabrics are generally produced with 1.6 knitting feeders per inch (which corresponds to 48 knitting feeders at 30 inch diameter), the absolute limit for 3 colors was at maximum 2.4 knitting feeders per inch for 3 colors so far. The patented Mayer & Cie. solution offers the possibility to produce single jersey fabrics with 3.2 knitting feeders per inch for the first time (which corresponds to 96 knitting feeders at 30 inch) and this with up to 4 needle tracks and full plating of elastomeric yarns on every knitting feeder.

Advantage for our customers: A productivity which is up to 70 % higher compared to the current production of 6 color striping fabrics as well as the possibility to use this machine as fully-fledged high-performance single jersey machine with a linear speed of 1.56 m/s (corresponds to 39 revolutions per minute at 30 inch). With this development the traditionally high costs involved in the production of striper goods will in future be reduced noticeably for our customers.

MJ3.2 E DNS – The world champion in the fine gauge single jersey jacquard machine sector with fully electronic needle selection. With gauge E 60 this machine breaks all hitherto existing limits in the production of circular knitting single jersey fabrics. The unlimited pattern variety which is now also possible for extremely fine fabrics opens up completely new collection possibilities particularly to manufacturers of night and underwear. But also manufacturers of technical applications are likely to become interested in the new fabric qualities.