Customised Design Forum at viscom in Düsseldorf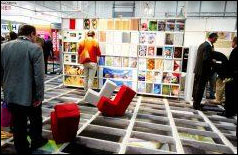 Creations with a "character" of their own are getting ever more popular – in the private, public or commercial domain they offer a greater degree of individuality and variety. Thanks to digital printing procedures the possibilities are practically unlimited, since this is a process suitable for printing on all kinds of materials, be they wood, glass, stone or textile. In cooperation with the raumPROBE materials agency, FORTEAM Communication and Mutoh Deutschland the newly established Customised Design Forum(13 to 15 October) at viscom offers everything related to the digitally printed world.

The "print design!" exhibition section and the "Customised Design meets Materials" special area showcase a large selection of application examples and the respective technologies. The supporting programme with the Customised Printing Workshop, the Textile Summit and "Lunch & Learn" as well as the "From pixel to product" presentations rounds off the offer. Target groups include specialists from the fields of architecture and decoration, (industrial) design, shop fitting and trade fair stand construction and from manufacturing sectors such as the furniture, textile, tile, wall design, plastics and fashion industries.

Exhibitors' joint project: print design!
The centre piece of the Customised Design Forum is the "print design!" object section designed by various manufacturers of machinery and materials. On an area of some 100 sqm and with a great variety of exhibits, the participating companies give an impressive presentation of the options digital printing offers today. There will be a bar counter with a digital print design, as well as a three-dimensional circular textile structure suspended from the ceiling. Other exhibits demonstrating the limitless possibilities of this technology include seating furniture, a variety of floor coverings such as laminate and carpeting, tables, glass steles, display frames and stands.

Lighting technology and digital signage solutions will also be showcased here. Among the companies that have already announced their participation in the Customised Design Forum are Consystec Gesellschaft für Produktentwicklung, Falk & Ross Group Europe, PONGS Textil, EGGER Retail Products, Sensient Imaging Technologes, PrimeX, Engel Oberflächenveredelung or 3A Composites and Mutoh Deutschland as one of the initiators.

"Customised Design meets Materials"
Exhibits made from textile materials or glass, material innovations and printing miracles will be shown at the "Customised Designs meets Materials" special exhibition in cooperation with the raumPROBE materials agency. Some 150 innovative materials and samples are on display. The exhibitors present their most innovative materials and examples of realisation in the areas of furniture, floor coverings and facades, walls and ceilings, textile and glass, as well as other material innovations, elements for the PoS and brand design.