viscom düsseldorf: Textile finishing in all its variety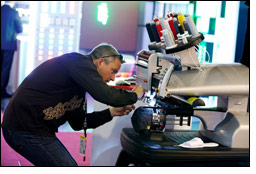 A sun umbrella with an advertising message, a tote bag with the company logo or corporate fashion for staff: there is a huge variety of textile advertising options. This is the result of modern textile finishing processes, from screen or digital printing, embossing, flocking or embroidering.

The entire range of technical possibilities will again be on show at viscom, which takes place from 13 to 15 October 2011 in Düsseldorf. Since it began, textile finishing has been one of the main topics of the international trade fair for visual communication, technology and design. The trade fair shows novelties in the areas of flock printing and flocking installations, embroidering machines, textile printing media, flock transfer and adhesion systems, screen printing and transfer techniques, embroidery yarns, embroidery technology systems, clothing and transfer presses.

Adverts and messages can be perfectly transported on the widest variety of textiles. Where leisure, club and sports fashion is concerned, the finishing of textiles is also a major topic. In the fields of architecture and decoration, (industrial) design, shop fitting and trade fair construction textile finishing is also widely used, be it for seating furniture, carpeting or curtains. With the new possibilities offered by digital printing the user market is continuously growing, since just about any surface can now be printed on. Textile finishing methods allow for large serial production runs as well as for custom-made designs that can be realised easily, fast and at reasonable cost with digital printing.

At viscom düsseldorf 2011, a large number of exhibitors present technologies, processes, materials and tools for textile printing. Among them are manufacturers of textiles e.g. A. Berger and Falk & Ross Group Europe as well as companies with the business segment textile finishing e.g. Karl Gröner, IVM SignTEX, IVB TransferDruckSysteme, Multi-Plot Europe, Walter Schulze, Lotus Transfers International, ESC - Europa-Siebdruckmaschinen or Print-Equipment.

Also the leading manufacturers of digital printers are at the trade fair e.g. Agfa Graphics Germany, Canon Deutschland, Epson Deutschland, Fujifilm Sericol Deutschland, Hewlett-Packard Deutschland, Mimaki-nbn, Mutoh Deutschland, Océ-Deutschland, Outdoor-Digitaldruckmaschinen, Roland DG Benelux or Seiko Instruments.

Extensive supporting programme for exhibitors and visitors
Textile finishing is another segment where the exhibition section is complemented by lectures.

For the first time, the Textile Summit will also be held at viscom. The topics here are trends and innovations in textile printing, modern materials, processing possibilities and printing technologies.

The new Customised Design Forum equally offers information on textiles. One example is the "Customised Design meets Materials" special area which, in cooperation with the raumPROBE materials agency, showcases some 150 innovative materials, patterns and examples of implementation, this also includes multifarious textiles, such as natural vegetable fibres (cotton, linen), natural animal fibres (wool, animal hairs, silk), cellulose chemical fibres (viscose, acetate, triacetate), synthetic chemical fibres (microfibre, elastane, polyamide, polyester, polyacryl).