Deck My Dorm expands into new markets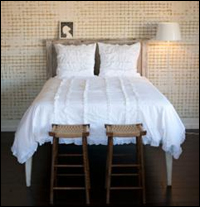 After experiencing tremendous growth, Deck My Dorm moves to introduce new girls designer bedding with featured bedding collections from India Rose, Davenport Home Furnishings, Karma Living and Amity Home. New trendy styles of bedding range from the classic shabby chic, all white cotton bedding with ruffled duvets and shams, to vintage inspired velvet and satin quilts sold as separates as well as bed sets. High-end traditional bedding from Traditions by Pamela Kline, a leader in the world of home textiles, has provided bed linen designs and manufacturing for more than 35 years.

Atlanta based designer and co-founder of Deck My Dorm, Jennifer Cook realized the need to offer her customers timeless, yet trendy collections of bedding that offer a level of sophistication beyond college life. "We started our company with a view of offering girls custom dorm bedding after realizing a need for something more than the typical, low quality bed in a bag that you find at most department stores", says Cook. With more than a decade of experience, Cook along with co-founder Jana Contardi continue to stay on the cutting edge of design bringing new bedding collections to their growing e-commerce site.

Offering an array of boutique bedding for girls from top manufacturers like Davenport Home Furnishings, whose philosophy is FUN, Davenport is known for their embellished bedding and a strong sense of color. Davenport's premier bedding line includes fine woven linens, duvets, quilts and decorative throw pillows that can mixed and matched within the different bedding collections.

Deck My Dorm is also pleased to feature bedding collections from Amity Home that include Twin/Twin XL, Full/Queen and Kings sizes. Amity Home has only top quality workmanship with skilled artisans designing quilted bedding in numerous designs and colors. "In recent months, we have heard directly from our expanding customer base, which is now including a growing age range of boutique shopper. Deck My Dorm is setting trends in a fast paced society of young female that range from teen to college age and to young professionals looking for a specific bedroom decor that fits their style and personality," adds Contardi.

India Rose brings a new soft classic look of bedding. The Prom Night Collection with all its ruffled sophistication and simplicity remains a favorite of the Deck My Dorm staff. With an assortment of fashionable bedding styles and colors to offer, including coordinating accessories like ruffled shower curtains, unique laundry bags and every day versatile totes, India Rose with its shabby chic design offers a more relaxed style of girls designer bedding that is shared among girls of all ages.

For those with a love for crocheted and embroidered vintage inspired style bedding, Deck My Dorm is excited to introduce new collections of velvet and satin quilts, throws and pillows from Karma Living. Since its inception, Deck My Dorm has been proud to represent Karma Living and their trendy and unique style of boho-chic sophisticated decor. Best sellers from Karma Living continue to be Pom Pom Throws and the recently introduced burnt out velvet bedding and bedding accessories.