New initiative for promising Peace Collection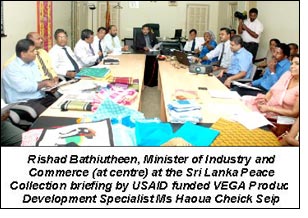 Ministry of Industry & Commerce A Cross Functional Team Styled (CFT) special division is to be formed to fast-track the promising 'Sri Lanka Peace Collection' to ensure sustained livelihoods for conflict affected women through primarily the handloom textile sector. And the time has now come to upgrade and develop this sector rapidly, says Rishad Bathiudeen, Minister of Industry and Commerce.

Minister Rishad was addressing a special debriefing on 'Sri Lanka Peace Collection' by USAID funded VEGA's expert Ms Haoua Cheick Seip held at the Ministry of Industry and Commerce on July 26. The briefing was also attended by officials from the Ministry of Traditional Industries and Small Enterprise Development, Department of Textile Industry, Export Development Board, Department of Commerce, Sri Lanka Institute of Textile and Apparel (SLITA), Textile Quota Board of Ministry of Industry and Commerce as well as the Department of Textile and Clothing Technology, University of Moratuwa.

Haoua Cheick Seip has been in Sri Lanka for the last six weeks to assist the war affected communities especially in the North and East of Sri Lanka involved in the production of handlooms by exposing them to newer designs and recommend products currently in demand in international markets. She is attached to the Volunteers for Economic Growth Alliance (VEGA) program implemented through USAID. Haouna is founder of African Creations, LLC which has implemented a program that prepares women artisans achieve economic self-sufficiency through their traditional crafts and preserve their cultural heritage. She has already linked the work of artisans from 15 countries—Zimbabwe, Zambia, Mali, Senegal, Ghana, Madagascar, Kenya, Gambia, Niger, Swaziland, Cote d'Ivoire etc with markets in the US, and is the recipient of a number of awards including the Verizon Capital of Women's Entrepreneurial Award - DC Women Business Center as well as a certificate of Appreciation by the Smithsonian Folk Life Institute.

"The new CFT style unit will include representatives from UNIDO, Textile Unit of Ministry of Industry and Commerce, Sri Lanka Institute of Textile & Apparel (SLITA), Export Development Board, Universities involved in garment sector, and the Ministry of Industry and Commerce, and stakeholders such as designers, among others" Minister Bathiudeen announced. "We can also plan a trade show in Washington to showcase our Peace Collection to the world. In addition we also need to promptly upgrade the 21 handloom centres of this sector in the Nothern and Eastern Provinces and need to allocate funds" Minister Bathiudeen stressed.

The Sri Lanka Peace Collection project was initiated by the Outreach and Economic Affairs Divisions of the Secretariat for Co-ordinating the Peace Process (SCOPP) in November 2008 with the aim of 'making it the brand that will connect rural Sri Lanka produce to the international markets' and has already collaborated with a number of organizations including the Academy of Design (AOD) and the Rural Development Network. The Sri Lanka Peace Collection effort follows the renowned Rwandan Peace Collection model. Based on the 'trade instead of aid philosophy', the Rwandan Peace Collection, made available at Macy's department store based in the US, consists of traditionally woven baskets direct from Rwanda. Created by Rwandan widows, the basket exports that began in 2005 became one of Rwanda's biggest exports by 2010, sustaining the weavers and their families. The number of this socially vulnerable group including widows in the North and East was 49.000 in 2002 but in-creased to 82 000 in 2009. According to the latest available information provided by the Northern Provincial Council in the Northern Province this number has increased to 43,297 in 2010.