NY cotton market under pressure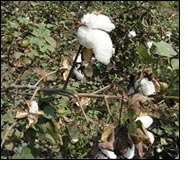 NY futures came under pressure this week, with December dropping 842 points to close at 96.52 cents. The cotton market was facing a lot of headwinds this week, be it from the scary rollercoaster ride we saw in the financial markets or the surprisingly bearish USDA report of this morning. However, considering the circumstances, cotton has held up relatively well so far, which we attribute to the fact that the trade has already sold plenty of US cotton short, both in the physical market as well as in New York, which limits additional selling.

The USDA Supply/Demand report came in mostly as expected, with the exception of US crop production, which was raised by 550'000 bales from last month to 16.55 million bales. Harvested acres went up slightly to 9.67 million and yield was increased from 800 to 822 pounds per acre, which accounted for the increased production estimate. This 16.55 million bales number was received with disbelief by the trade, because it was around 1.3 million bales above the consensus.

Could we have become too negative on the US crop? Only time will tell, but the Texas crop has definitely suffered a lot of damage this season and we therefore feel that the 4.5 million bales estimate for Texas is much too optimistic. Not only has the dryland crop been canceled out, but also irrigated acreage looks uneven at best, with a certain percentage either being abandoned or producing dismal yields.

The crops in the Mid-South and Southeast are doing a lot better, but we believe that the next 4-6 weeks would have to be perfect in order to make the USDA estimate for these two regions. Overall we doubt that the US is on track to make a 16.55 million bales crop and believe that this estimate is at least a million bales too high.

Other notable changes in the USDA report included a drop in the Brazilian crop from 9.3 to 8.7 million bales and some smaller reductions of 0.2 million bales each in West Africa and the CIS, which together more than offset the increase in the US and reduced global production from 123.16 to 122.71 million bales. However, this relatively small drop in output was overshadowed by another sizeable cut in global mill use for 2011/12 to just 115.18 million bales, 1.57 million bales less than last month's estimate.

Demand destruction has been the main driver behind the historic price collapse we have witnessed in recent months, as mill use for the 2010/11-season has been reduced by roughly 7 million bales since last August, from 120.87 to 113.93 million bales. While there is no doubt that demand has suffered after prices nearly tripled in a matter of just seven months and mills either reduced production or switched to other fibers, we would not be surprised if the current demand estimate would prove to be too low a few months from now.

Despite economic weakness in the US and Europe, global fiber demand is still growing and cotton is likely to make a comeback now that prices are once again more manageable for the various segments of the supply chain. Common sense tells us that today's mill use should not be lower than it was six years ago, when 116.8 million bales were consumed. China, India and many other emerging markets have been growing leaps and bounds since then and even in the US and Europe retail sales statistics don't justify the gloomy outlook for consumption beyond a short-term inventory readjustment.