Manmade fibre textiles now hog limelight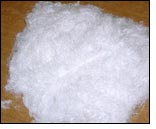 The manmade fibre textile industry in India has never received due recognition in the vast Indian textiles market. The natural fibre – cotton has been the mainstay of the Indian textile industry.

The consumption of textiles in India too is heavily skewed in favour of cotton textiles, contrary to the trends prevailing in global markets, where manmade textiles have a bigger pie of the overall textiles market. The reasons for which is high cotton production mainly made possible due to the 'Cotton Technology Mission' and also the weather conditions.

As per statistical data, in the $70 billion Indian textiles industry, consumption of cotton and manmade fibres is in the ratio of 60:40 against a global consumption ratio of 40:60.

Way back in July 2010, the Ministry of Textiles too created a strong case for equality in duties and levies between textiles produced from cotton and man-made fibre. In the draft national fibre policy, the Textile Ministry had displayed concerns about the exorbitant disparity in taxes between manmade fibres (MMF) and cotton.

For instance, no excise duty is levied on cotton textiles, whereas, manmade fibre textile attracts 10 percent duty and in fact cotton textiles have an optional duty of four percent.

The draft also mentioned that, if the excise duties on manmade fibres and manmade fibres textiles are cut down, then they will have a positive impact on the growth of MMF usage.

Further more, the Textile Ministry informed that, going forward, demands are likely to be on the higher side for manmade fibre based textiles and therefore, special attention needs to be given to these fibres, in order to increase their usage and production in India.

However now, the fortunes of the manmade fibre textiles industry have turned around in recent months for completely different reasons. The skyrocketing of cotton prices since the beginning of the current year had brought manmade fibre textiles in to the limelight, which is also desirable, as consumption of manmade fibre textiles should grow.

Cotton prices more than doubled in the first few months of the cotton season beginning from October in India, which led textile producers to review their product mixes and while a few preferred to increase manmade fibre ratio when mixing it with cotton, a few shifted to producing 100 percent manmade fibre yarns and textiles.

Just yesterday, the Southern India Mills Association (SIMA) demanded removal of 5 percent import duty and 4 percent special additional duty on manmade fibres and central excise duty to be reduced from 10 percent to 4 percent, to make clothing affordable and provide a level playing field to the domestic synthetic mills with other countries.

The burgeoning segment of technical textiles too is expected to fuel the growth in usage of manmade fibres in India, along with which, land constraints might stem the growth of cotton production in the future.