Rio Home to produce kathy ireland bedding line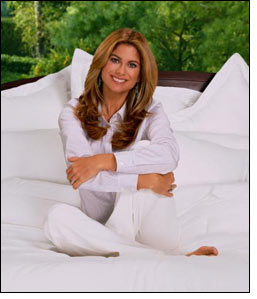 Rio Home Fashions, an industry leader in basic bedding, memory foam and home textiles, is proud to announce it has signed a licensing partnership with kathy ireland Worldwide aimed at building a new product category in basic bedding for the kathy ireland Home brand.

Rio Home Fashions will offer a complete line of kathy ireland Home basic bedding products including memory foam bed pillows, memory foam mattress pads and toppers, fiber and feather beds, comforters, mattress pads and bed pillows. Additionally, the partnership will expand into the Hospitality industry and offer designs within the kathy ireland Home Acafe Society and kathy ireland Home Jardin collections. All designs will provide comfort, luxury, practicality and indulgence while finding its own unique style within the kathy ireland Home brand.

"Rio Home Fashions is committed to joining Kathy in her mission of 'finding solutions for families, especially busy moms,' by providing new and exciting ways to enhance and improve the quality of each consumer's sleep experience," says Matt Caccioppo, Executive Vice President of Sales and Merchandising for Rio Home Fashions.

"We're very excited and proud to have the opportunity to work with Kathy and the wonderful team at kathy ireland Worldwide. Not only will we be looking for basic bedding solutions for the busy mom, but we will strive to provide the best and newest technology, mixed with the latest innovation available, in all our kathy ireland Home basic bedding products. Our strength as a company combined with the business and design leadership and brand recognition that Kathy herself and the kathy ireland Worldwide team brings to this partnership is very exciting," said Caccioppo.

"Everyone at kathy ireland Worldwide is delighted to join the extraordinary team at RIO Home Fashions. This alliance will make it possible for our designs in linens for home and the hospitality markets to be launched and make a true difference for customers. RIO Home Fashions has embraced our mission of '...finding solutions for families, especially busy moms,' '... finding solutions for people in love' and '...finding solutions for people in businesses.' We are fortunate to have found a company that shares our core values and is so committed to making a difference in this important category. We look forward to a long and rewarding association," says Kathy Ireland, CEO and Chief Designer of kathy ireland Worldwide."

Rio Home Fashions, Inc. is a third-generation family-owned home textiles company. Established 35 years ago in China as a cut and sew factory, Rio Home Fashions has grown to supply almost all the major US textile companies, as well expanding its success by adding its own dedicated and knowledgeable sales team and its own west coast distribution center making it a proven industry leader in manufacturing, marketing, merchandizing, supply chain management and distribution.

Rio Home Fashions was one ofthe earliest companies to introduce a complete line of memory foam bedding to the US market. Their extensive knowledge of memory foam and sleep science continues to help Rio create the best in comfort solutions with unique and innovative product offerings.