'print design!' joint project at viscom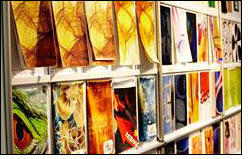 Modern object and store design, digitally printed furniture, floor coverings or wall décors: viscom, International Trade Fair for Visual Communication, Technology and Design, presents digital printing in practice.

From 13 to 15 October the revised "print design!" presentation showcases realised examples of the many and varied possibilities of customising interior decoration and furniture. The area, which measures about 100m², will be furnished by manufacturers of machines and materials with exhibits that illustrate current possibilities for applying digital printing in settings such as shops, foyers, reception areas, restaurants, bars or trade fair stands. The focus is on two theme worlds: "multi color", which illustrates colour variety and brilliance, and "interior textures", a display of various material motifs.

Joint project by manufacturers of machinery and materials
The centre of the "print design!" display area is taken up by a catering area with a large, circular, digitally printed counter with a dimensional circular textile structure suspended from the ceiling above. Other exhibits demonstrating the unlimited possibilities of this technology include seating furniture, a variety of floor coverings such as laminate and carpeting, tables, glass steles, display frames and display racks. Several companies, each contributing its specialised know-how to the design of the area, work together to create the total picture.

ARCHIDEA-Art (Engel Oberflächentechnik) for instance manufactures indoor glass surfaces onto which digitally printed artwork can be transferred. Possible uses are furniture fronts, doors, wall panelling or, for instance, kitchen countertops. Consystec Gesellschaft für Produktentwicklung contributes signing systems and universal mounts. The Falk & Ross Group Europe specialises in the textile sector and provides the uniforms for the service staff at the fair. Macron in turn lays film flooring in the area. EGGER contributes laminate flooring which has been printed to look like original oak flooring. PONGS Technical Textiles, a supplier of wall and ceiling mounted systems, enhances "print design!" with industrial textiles that can be used for noise protections. Sensient Imaging Technologies manufactures suitable inks. Mutoh Deutschland is one of the initiators of the area and supports the project by making printing equipment available for the production of different prints on a large variety of materials.

Design: "multi color" and "interior texture"
The exhibits are printed to fit in with the "multi color" and "interior texture" theme worlds which illustrate the quality and variety of digital printing technology. "multi color" demonstrates the extensive colour range to be realised by digital printing, as well as examples of its brilliancy, intensity and rich colour. The "interior texture" examples show material motifs such as timber, textile or stone textures. The synergy of both theme worlds is to appeal primarily to architects, planners, interior decorators and designers. This is also why the catering area is called the "architects' lounge".