'I am very passionate about the textile business' – Nipun Arora, Aarvee Denims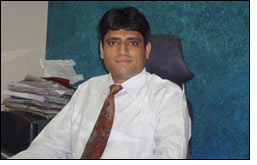 He comes from a high-upper class family background, but follows a conservative, religious and spiritual culture and lifestyle. At the same time, he is over-passionate about textiles and is a true hardcore work-alcoholic. He is designated Vice-President (Operations) of a company, which is the second biggest denim producer in India.

Meet Nipun Arora, eldest son of Mr Vinod Arora, CMD of Aarvee Denims Ltd which posted a 100 percent hike in denim fabric exports in the previous fiscal year and reported a profit after tax (PAT) growth of 46 percent on a turnover of Rs 4.94 billion.

Nipun is just a shade below six feet in height, with a V-shaped jawline, broad shoulders and a firm handshake to complement the other three. He presents the perfect corporate look in a sunflower yellow coloured tie, worn on a white shirt and beige colour trousers.

Nipun traces his roots to Delhi, from where his father migrated to Ahmedabad in 1981. He joined his father in the business as a 17 year-old, the very next day, after completing his 12th standard exams. He joined a morning shift college specifically, in order to work and learn the ropes of the business for the rest of the day.

He has also done a crash course in textile chemistry from ATIRA to learn the nuances of textile processing. Not even for a second, does he regret missing out on the care-free days of college and thanks his parents who motivated him to join the business early.

He is married to Priti – a housewife and they have two children – a son and daughter. Brigu is 13 and Jhanvi 8 years old. Reaching home from work, means eating dinner together and playing and talking with the children. He tries to spend holidays with his two children as much as possible.

He is a movie-buff and has got attracted to spiritual books like the Bhagwad Geeta in recent days. In his school days, he recalls that, he was a sports freak. He used to play cricket, badminton, volley ball, swimming and table tennis. Just a few years ago, he even learnt to play lawn tennis thanks to his brother, but has not pursued it.

When asked about hobbies and other interests, he quotes an old hindi language saying, "Ek myan me do talwar nahi rahe sakti (There cannot be two swords in a scabbard). I am very passionate about the textile business and when you are involved full time, there is very little time to pursue other hobbies or interests".

He candidly says, "I do not need sports to relax. I do not take or carry any burden or tension with me home. The pressures, burden and tension are increasing with each passing day, but I do not take them home. I am always lighthearted and do not need to do any activities to unwind".

Talking about business is not taboo at the Arora family dinner table. He explains, "We hail from a trading family and are very close-knit and so we eat, drink and sleep business. We actually catch up on what the other is doing at the dinner table".