APDN's SigNature featured by five renowned fabric producers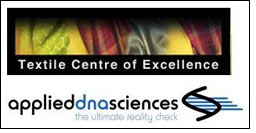 Applied DNA Sciences, Inc., a provider of DNA-based anti-counterfeiting technology and product authentication solutions, is collaborating in a new and ground-breaking anti-counterfeiting initiative to protect fine wools in Yorkshire woolen products produced for the world's premiere brands. The products of their collaboration, unique fabrics marked with APDN's SigNature DNA to prove garment authenticity, are being featured at two of the most important textile shows in Europe that form that shopping floors for the fashion industry.

The Huddersfield Textile Centre of Excellence. a long-time APDN partner with over seventy member companies, is showcasing "Yorkshire Signature DNA," a 'DNA fabric' developed by the Centre, using APDN's SigNature DNA technology. The product will combat rampant counterfeiting of the historically treasured Yorkshire wools. Five of the UK's most prestigious mills will feature APDN's DNA fabrics: Bower Roebuck, Dormeuil, Holland and Sherry, Taylor and Lodge, and John Foster. Collectively, these fabric designers and weavers supply fabric to many of the most famous designer lines of Europe and America.

The following is the text of a press release about the program which has been issued by the Textile Centre of Excellence, as part of the Yorkshire regional Textile Futures Programme.

Paris
In response to increasing demands by consumers for quality assurance and proof of origin, The Huddersfield Textile Centre of Excellence, as part of the regional Textile Futures Programme, has developed a 'Yorkshire SigNature' DNA to protect fabric woven in the region. Textile Futures is part financed by the European Regional Development Fund through the 2007-2013 Yorkshire and The Humber ERDF Programme.

Bill Macbeth, Managing Director of the Centre said "The anti-counterfeit strategy involves the use of a unique botanical DNA that is impregnated into the fabric during the manufacturing process to provide authentication and brand protection for weavers of premium quality fabrics in Yorkshire". A fully equipped laboratory has been installed in the Huddersfield Centre to carry out forensic analysis of DNA samples from weavers participating in the programme. The SigNature DNA solution has been developed by Applied DNA Sciences in Stony Brook New York.

Recent market research carried out by the International Wool Textile Organisation (IWTO), the Brussels based advocacy body for the global wool industry, revealed that consumers, particularly in Asia Pacific, paying high prices for premium brands were increasingly anxious about provenance of superfine wool fabrics as the counterfeit market expands in tandem with worldwide growth in luxury sales.

Peter Ackroyd, President of IWTO noted "The international luxury market is very buoyant and Yorkshire weavers of worsted suitings are benefiting from the current vogue for quality fashion". Sales of British premium brands have increased dramatically overthe last year, particularly to China where 'status shopping' is set to expand, as wealthy local consumers continue to reject poor quality merchandise.